Custom Funko Pop Protectors Manufacturers,Pop Vinyl Protective Cases Suppliers
We are the ideal choice for companies specializing in Funko Pops. We produce and manufacturer professional and high-quality displays and protectors. Agreen packaging is the best premium at custom 4 inches 6 inches 8 inches 10 inches and 2 packs of pop clear protectors.
We can not only provide easy-to-fold lines, but also emboss LOGO, and CMYK printing on the surface, and also provide special processes for UV and scratch resistance. The United States, Canada, Australia, the United Kingdom, New Zealand, France, Singapore, and Switzerland have our long-term cooperative buyers and agents
Easy to assemble pop protectors
The data has been tested by the quality inspection department of our factory many times. The assembly efficiency of pop protectors with soft lines is 7 times that of ordinary lines.
This data has been recognized by buyers and customers many times. Special dustproof and scratchproof materials
Embossing your logo on the pop vinyl protective cases
Deliven to provide customers with high -quality customized protectors that meet their unique needs. Customize unique signs for you and take strict quality control measures to ensure that every protector we produce meets our high standards.
4 inch 6 inch 2Pack Stock
For regular orders, we usually complete inspection and production within 7-10 working days. The delivery rate of large orders within the agreed time also reached 98.6%.
We customize cartoon boxes for Funko pop protectors of different sizes, and constantly optimize and improve the way to enter the box.Ensure safe delivery to each Distinguished guests.
Custom Funko Pop Protectors Ultimate Guide

Funko Pop Protectors Purchase-Ultimate Guide
Why do need funko pop case protectors?
The collections are trendy in the market at present. If paper box pack only the collections/ If clients only use paper window boxes to pack the collections, they will be stolen easily. Besides, this style covers dust quickly too. So transparent and anti-dust funko pop box protector is needed for them.
If you are searching for the best way to keep your Funko Pop out of the dust, Clear box Packaging will provide the best quality products for your collection needs. Funko pop vinyl protector case is the ideal way. If you want to find the best way, please search it in ClearboxPackaging. But please note the collections are not included. The Funko POP of photo is for showing only.
The advantages and disadvantages of funko pop acid-free plastic protector case?
protector funko pop advantages:
High-quality material- clearboxpackaging protector case is made from high-quality polyethylene terephthalate(PET). This style material is durable, has high transparency, and is the best anti-dust material. It is made of recycled, acid-free, moistureproof PET material.
Each protector case has a plastic film- Each funko pop vinyl protector case has a special plastic film that is easy to peel off. It prevents wear and scratches during transportation and before use. After tear plastic film, it displays your collections in higher resolution.


Auto-lock mechanism at the bottom-Our funko pop vinyl protectors has auto-lock at the bottom. It can save time to assemble and easy to assemble it. After assembling the bottom of the case, put your collections into the bottom of the protector; it can ensure your Funko pop and other items' security.
Lock tab at the top there is a D-lock/lock tab at the top of funko pop protector box; it increases structural integrity when they fold the case. No matter what happens, the lid will not bounce off. Thus it keeps the funko pop inside always.
Perfect size- Our funko pop stack protector are designed to fit the collections perfectly, without other space for the box to move around inside.


Soft crease- the folding line of the protector has a soft crease, and it is easy to fold the line and fold the box into shape


Multiple thicknesses- We can make thickness as customized; 0.35/0.4/0.5/0.6 mm is common.
Packaging way:5/10/20pcs each bundle. Floating pack flat pack, Saving space and cost of transportation.
Quality assurance: 100% refund/return goods if there is a quality problem. improving customer satisfaction.
Stackable- The protector can be stacked to display your collection perfectly.
pop shield protectors disadvantages:
Weight of the protector is heavy, so it is not good to ship by air; the shipping cost is expensive than the goods' value. Normally it ships by sea.
After folding into shape, there is a probability of breakage when falling from high.
Although the plastic PET material is ROHS material, but the degradation cycle is long, enterprises with strong social responsibility can use ECOPET. ECOPET can be completely degraded to compostable material in 3-5 years, with the disadvantage of significantly increased cost. The MOQ is relatively high.
Funko Pop Box Dimensions- 4″6″9″10″Inchs Size
4 inch funko pop protector size
| | |
| --- | --- |
| Funko Pop Box Dimensions | 4 inch funko pop protector size |
| Inches size | 6.38*4.65*3.62inches |
| CM size | 16.2*11.8*9.2cm |
| MM size | 162*118*92mm |
| Protector material thickness | 0.35MM/0.40MM/0.50MM/0.60MM |
This is standard size; the normal thickness is 0.35/0.5mm. Also, there are clients who choose 0.6/0.7mm, But we do not suggest such thicker; first, the price is very high; second, if the thickness is too thick, the loss is very high. Finally, their Weight is heavy; it causes ship costs to be high too.

Although 0.35mm and 0.5mm are high-quality products, 0.5mm is relatively thick. In terms of texture,0.5mm looks more high-grade than 0.35mm. Each funko pop stack's hard plastic protector case has protective film. It can prevent from such as dust, fingerprint.
In addition, if you do not want to spend time tearing plastic film, you can choose surface scratch-resistant PET. Anti-scratch material has wear-resistant, anti-finger printing, and other characteristics
4inches glow in the dark funko pop protector
Do you feel disappointed when your funko pop acid-free plastic protector case display to you without any characteristic?
Do not worry; this funko pop protector display case glows in the dark it can catch your attention. It is a perfect way to display your funko figures or other characters.
This is a luminous display box. All sides of the protector case are printed with translucent illuminated borders with textures, and the transparent window can display your collections clearly. The border creates a glow effect around the entire funko pop hard plastic protectors.
4" POP! Blood Splatter Protector
Do you like horror movies, or do you like the characters in them? This collection is designed for horror fans. Our blood splatter funko pop protector case can protect your collections well. The whole funko pop premium pop protector is covered with patterns of blood spatter, giving a visual impact.

This high-quality, acid-free funko pop stacks hard plastic protector fits your 4-inch funko pop protector perfectly, with an automatic lock at the bottom and a lock tab at the top to keep your POP safe.
6 inch funko pop protector
| | |
| --- | --- |
| Funko Pop Box Dimensions | 6 inch funko pop protector size |
| Inch size | 8.07inches x 5.67inches x6.53inches |
| CM size | 20.5*14.4*16.6CM |
| MM size | 205*144*166MM |
| Protector material thickness | 0.35MM/0.40MM/0.50MM/0.60MM |
The case fits all standard 6 funko pop protectors. Such as Alien Queen, Viserion, and Baymax Diamond Glitter. It can protect your Pop! It's safer than the Mind Stone. But that doesn't prove anything, and we can not promise that our funko premium pop protector can protect against Thanos.

According to the protector size, we suggest thickness 0.5mm, relatively solid.
9 inch funko pop protector
| | |
| --- | --- |
| Funko Pop Box Dimensions | 9 inch funko pop protector size |
| Inch size | 11.57*8.46*6.65inches |
| CM size | 29.4*21.5*16.9cm |
| MM size | 294*215*169mm |
| Protector material thickness | 0.40MM/0.50MM/0.60MM/0.7MM |
If you like to collect big Pop! This size fits all regular 9 "pop vinyl records,funko pop 10 inchs protector life-size Groot Pop!, We suggest thickness 0.5mm
10 inch funko pop protector
| | |
| --- | --- |
| Funko Pop Box Dimensions | 10 inch funko pop protector size |
| Inch size | 12.91*8.97*8.30inches |
| CM size | 32.8*22.8*21.1cm |
| MM size | 328*228*211mm |
| Protector material thickness | 0.40MM/0.50MM/0.60MM/0.7MM |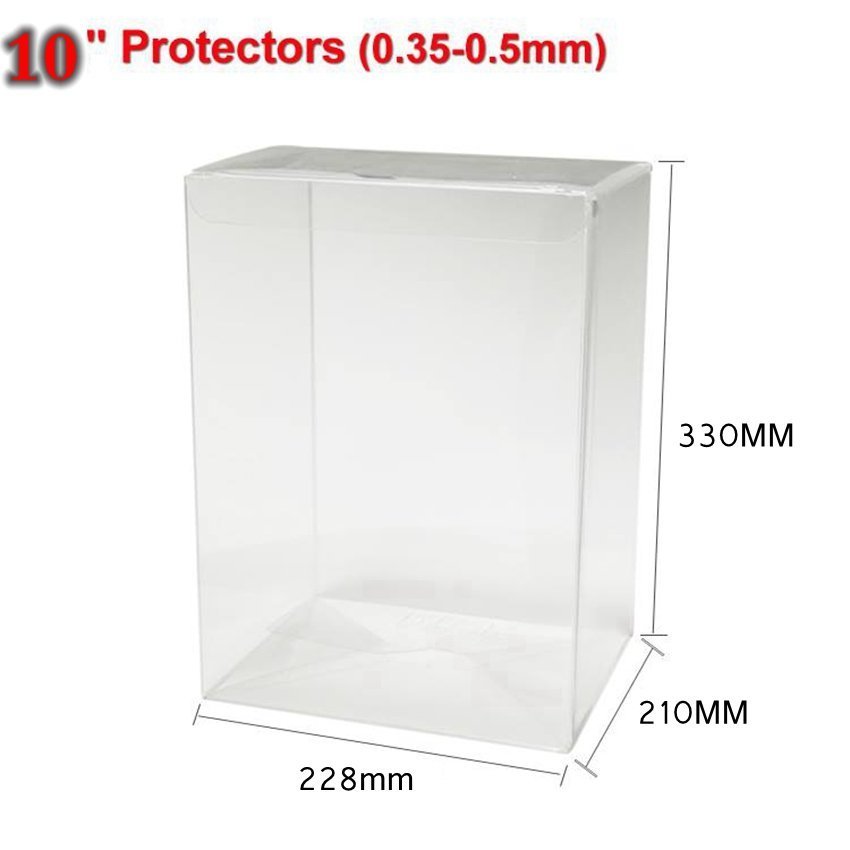 This size fits all regular funko pop 10 inchs protectors! Such as Thanos, Pikachu and The Hulk, and Iron Man.
The thickness can be 0.40mm/0.5mm as an option. 0.5mm will be stronger to protect POP!
funko pop protector 2packs size
| | |
| --- | --- |
| Funko Pop Box Dimensions | 2packs pop protector size |
| Inch size | 18*6.41*3.66inches |
| CM size | 20.8*16.3*9.3cm |
| MM size | 208*163*93mm |
| Protector material thickness | 0.40MM/0.50MM/0.60MM/0.7MM |
One pcs collection seems alone. funko pop 2 pack protector means to accompany. If you're a romantic or someone who hates being alone, then you'll love funko pop 2 pack, hard protector. Only 2 pack stay together, you friends will never break your heart by leaving each other as they did in the anime.
There is 0.40/0.5mm thickness as a choice.
Can I emboss my brand logo on the surface of the Funko pop protector case?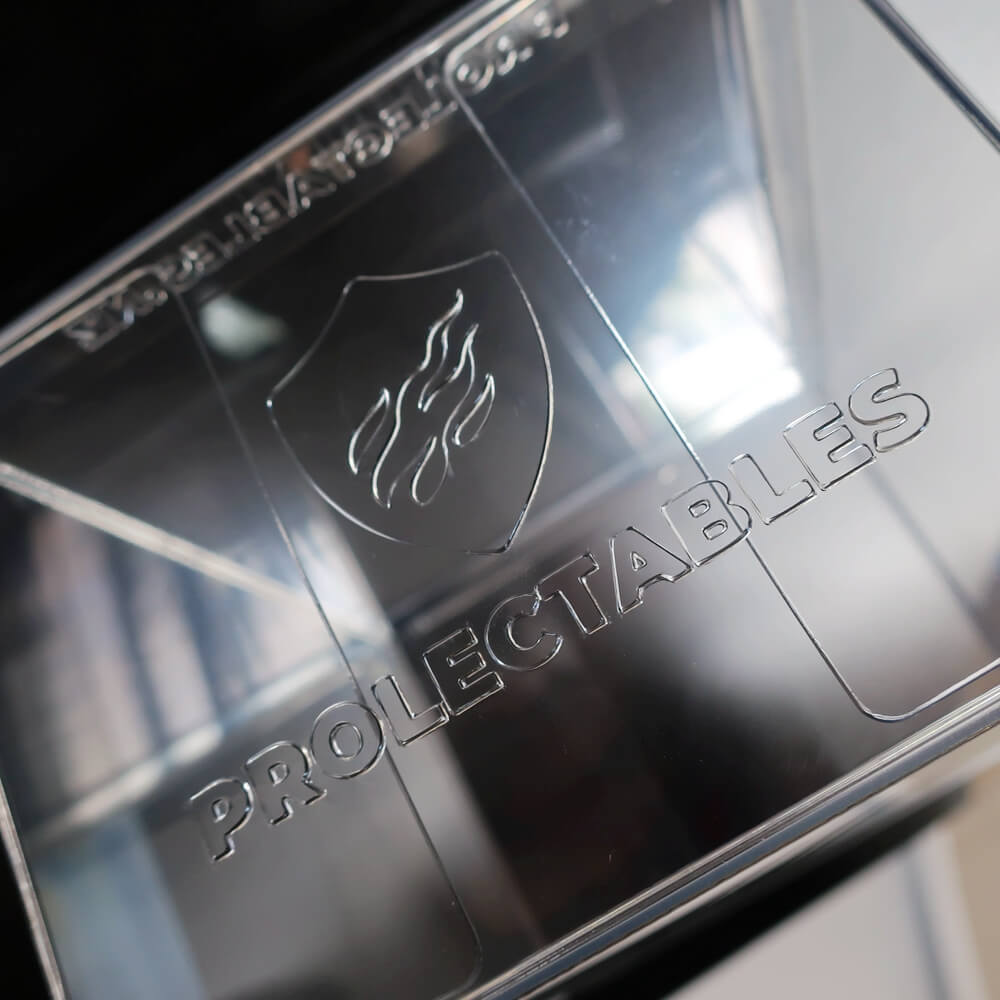 New style UV resistant funko premium pop stacks protector case
We always hope our funko pop stacks vinyl interlocking premium plastic protector can keep its natural color and transparency to protect the statuettes.

When the soft funko pop protectors are exposed to the sun for a long time, do you worry that the funko pop stack's vinyl interlocking premium plastic protector will change color and be damaged by the sun's ultraviolet rays?

Now, Smart collectors choose to display the figurines in double-sided UV PET protectors. Therefore, collectors will not worry about the UV rays. Let your collections shine in the sun
Why is the pop vinyl protector you purchased easy to crack and deform?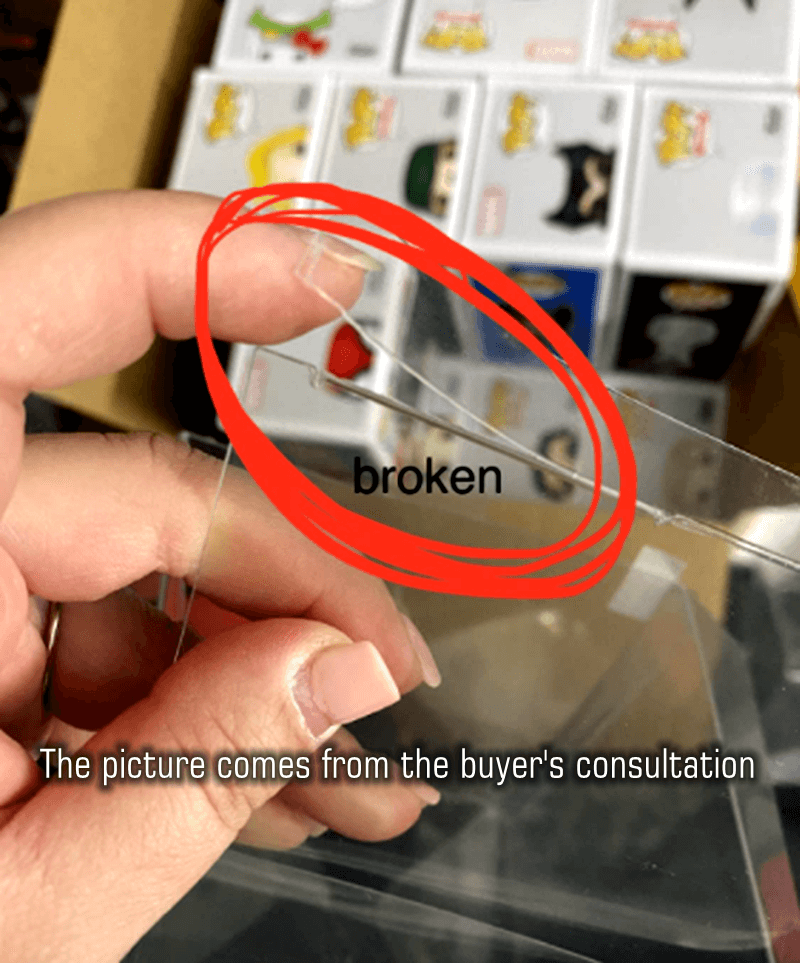 High-quality PET material is flexible and firm, and will not be damaged or broken during normal assembly. If your supplier uses inferior raw materials or the production process does not meet the standard, the damage will occur.
The protector cannot be combined into a perfect cube. On the one hand, there may be a deviation in the size design, on the other hand, the depth of the lines of the product itself is inconsistent or the size is inconsistent, which is also an important standard to test the quality of goods produced.
The glue overflows on the side of the protector funko pop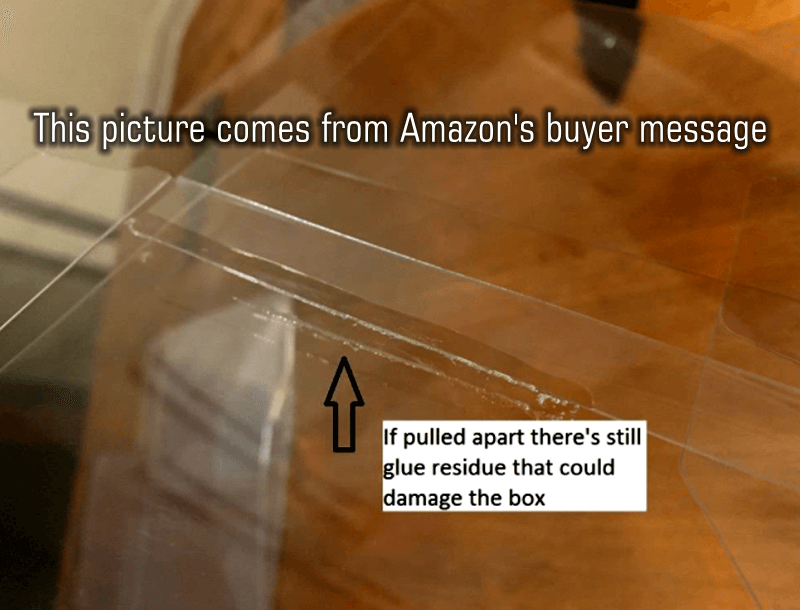 In the actual production process, due to the stretchability and mechanical problems of plastic materials, it is inevitable that there will be glue overflow. At this time, the quality control ability of the factory is particularly important.
It is necessary to have experienced QC personnel in the process of rapid production to eliminate defective products in time. There are many experienced employees on our production line, specializing in QC and QA inspection to ensure the quality of each shipment.
Pop vinyl protector has many fingerprints after assembly?
Because the material is transparent, without protective film, the hand touching the protector will leave a fingerprint.

We suggest that wearing gloves and tear protective and them assemble it. Or you can tear a small part and assemble it well and tear plastic film finally.
Protector was scratched on surface.Unsightly
first, the raw material is bad quality material. itself scratched. The second is the production process of the material was scratched. The third the pop protector was scratched when you assemble it.
So we will check raw material if there is a scratch problem when we purchase material. if there is a problem, we will return the raw material and reorder it. If we find a scratch pop protector during the process, our QC will pick it out and will not send it to you.

In order to prevent scratching the protector during assembly, we suggest you wear gloves to assemble it. In addition, we have another anti-scratch material, even if there is no protective film, the protector is also difficult to be scratched. But the price is higher than a normal pop protector
Why are the material thicknesses different for the same batch of pop vinyl cases?
For the same batch of goods, the supplier must purchase and produce materials in strict accordance with the contract requirements. According to international production standards, raw materials will have a deviation of plus or minus 0.02mm in the production process. Due to the continuous efforts of Chinese suppliers, this data is basically controlled at 0.01mm.
Perhaps, you may not have the concept of the above numbers. The diameter of hair is usually 0.05-0.07mm. In this way, you can ignore the above errors, because you can't tell from the touch only.
If there is a significant difference in the feel of the protectors provided by your supplier in the same batch, it is obvious that they are cutting corners.
The surface protective film of pop protector is difficult to remove and will break
If the protective film on the surface of transparent plastic material is too thin, it may break during removal.
If the protective film is broken into flakes, it is difficult to remove. Generally, the production temperature of the equipment is not well controlled during the production process, or the protective film cannot withstand the high temperature during the production process and breaks. Tightly bonded with plastic material.
Experienced manufacturers will thicken the protective film and use high temperature resistant protective film to solve this problem. Of course, this will also increase the final cost of the protector.
Therefore, price is not the only criterion for selecting a long-term cooperative supplier. The factory that provides high-quality products at reasonable prices and quality for a long time is our final choice.
Situation that there is no glue on the side of Funko pop protectors?
Since the bonding speed of the protector is relatively fast in the adhesive process, experienced production personnel are required to debug the equipment to the best state. In addition, it is inseparable from the careful inspection of the inspector. Finally, show you the best product.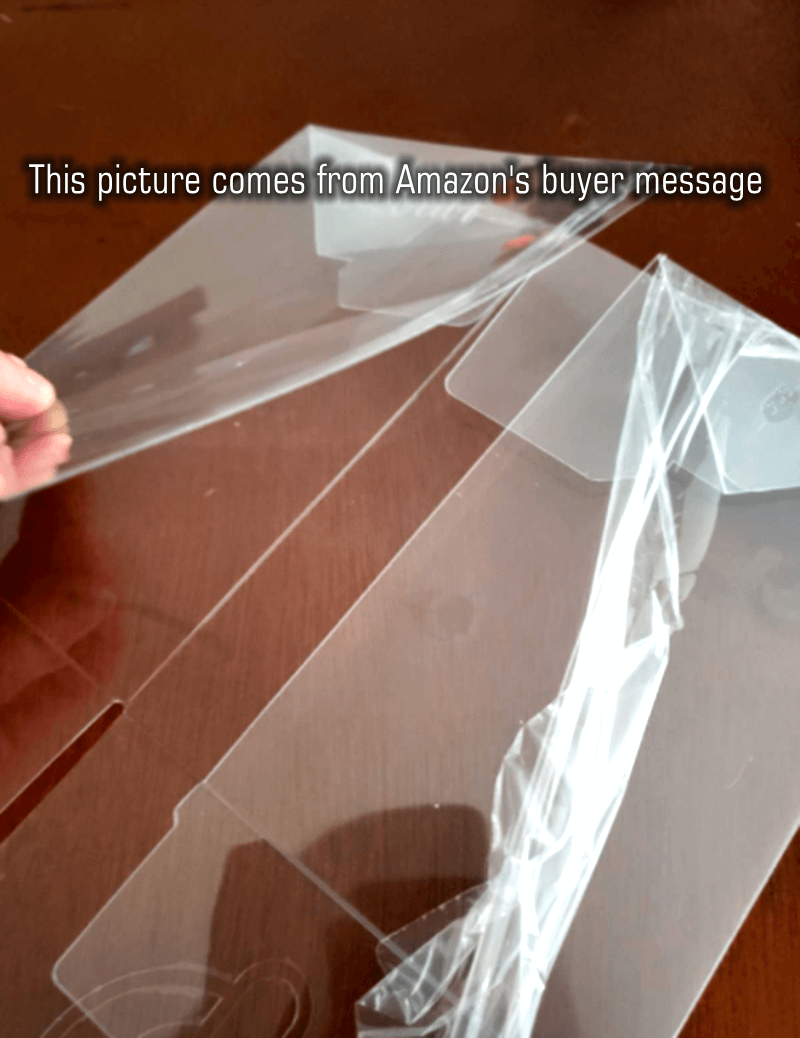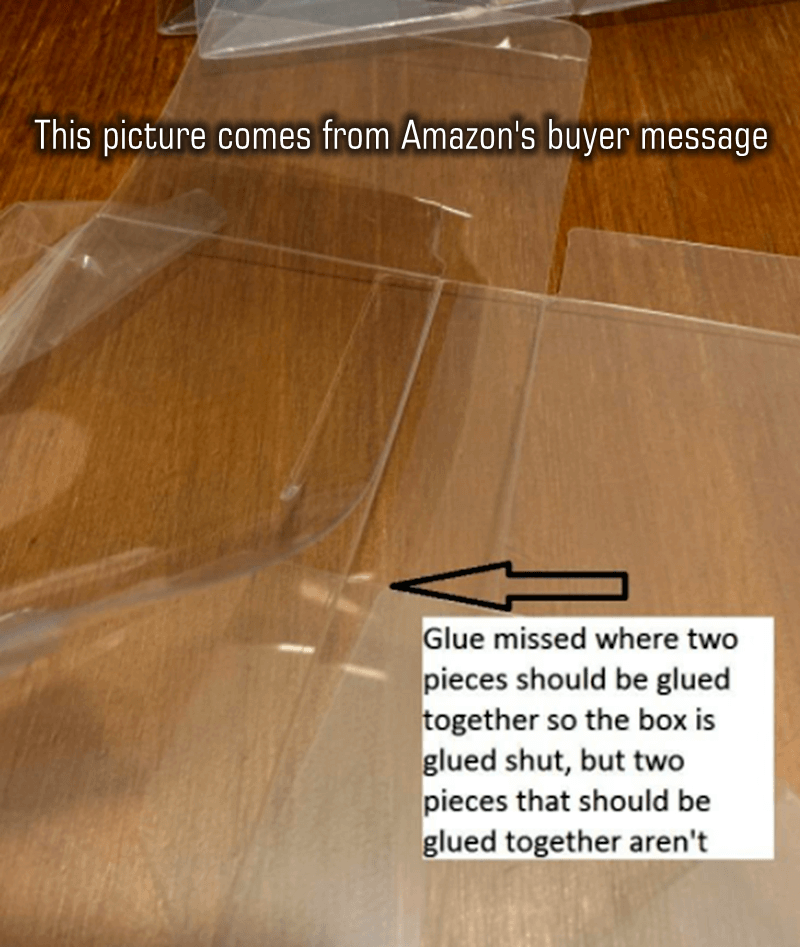 Why are there snow spots on the surface of the premium pop protector that cannot be removed?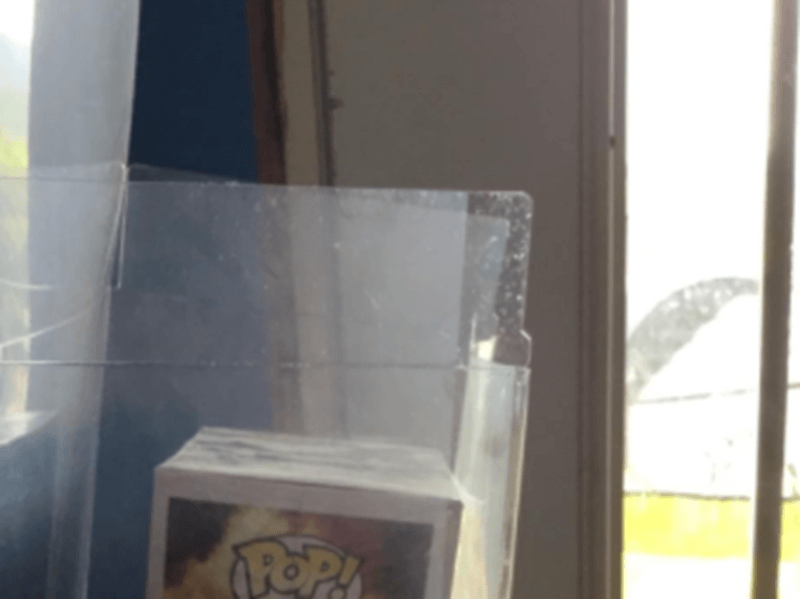 The technical terms of this problem are not easy to understand. The reason is the static spots are caused by moving friction between products.
Before production, due to improper storage or frequent handling of raw materials, electrostatic friction between materials and vortex scratches are generated.
Secondly, most manufacturers feel that the products are perfect before they are put into the box in the factory. In fact, it is not, because if the packaging method into the box is wrong and there is no completely closed packaging. In the process of long-distance international transportation and turnover, frequent handling will continue the movement and shaking of internal products, generate static electricity and lead to direct results.
We have rich experience in packaging and transportation and have been solving problems in production and practice. I believe we are more perfect than most manufacturers.
The flap of pop proctor doesn't have a lock tab can not be stacked flat.
After the perfect combination of pop protectors, the top should be relatively flat to facilitate the stacking of our collections.
We can solve the problem of being unable to stack by adding locks and soft creases on the top
Problems worthy of attention in customizing transparent plastic boxes