clear plastic folding boxes & flat folding clear boxes Manufacturers and suppliers
Clear plastic folding boxes visibility and safety and products that are popular higher than in cartons. Flat folding clear box packaging with color printing is both practical and attractive under the blessing of counters and lights. Clear Box Packaging has affluent experience in manufacturing and designing foldable clear plastic boxes. Screen printing, ofsetový tisk, bronzování, silver ironing, ražba, and soft line technology are our specialties.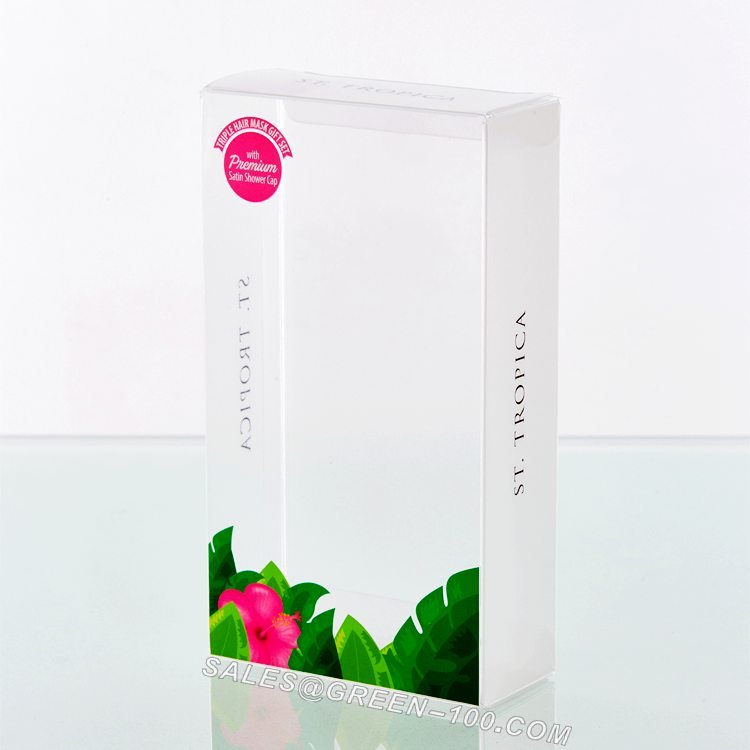 With our expertise in high-quality printing, we can achieve your color goals and provide you with an eye-catching flat-folding clear PVC boxes package. We can use leading PVC substrates to make, print, and emboss on your plastic folding carton.
flat folding clear pet boxes
We produce biodegradable transparent flat-folding clear pet boxes, highlighting the products inside. Our team will work with you to design a transparent plastic box that can effectively display your product and highlight its most attractive functions.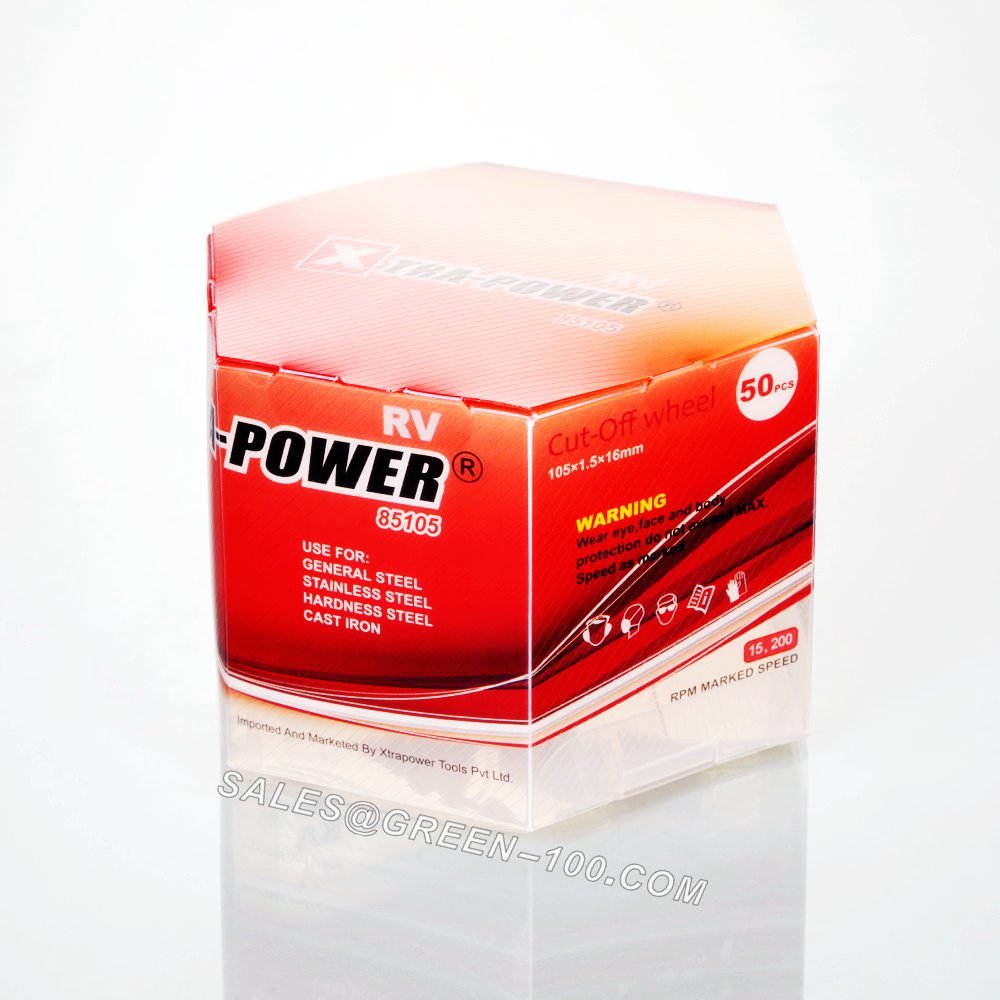 folding clear plastic pp boxes
With our advanced printing technology and manufacturing experience, we can produce transparent or translucent frosted PP folding carton packaging to add value to your products and let them enter the hands of consumers from the shelf.
Clear Plastic Folding box manufacturing process

- Konečný průvodce
Why choose clear plastic folding boxes
plastic folding boxes are easy to assemble with soft lines, and they ship flat, saving you money on shipping costs and storage space. Flexibility in design and incredible graphic options, with up to 8-color offset printing. silk-screen printing and foil stamping are available. FDA food-grade and biodegradable materials are available on request.
Regardless of the type of product, companies including clear plastic substrates in their package design notice a number of significant benefits. Clear packages give brands a competitive edge in the following ways:
Intuition

:

Our clear vinyl boxes are made of the latest transparent materials

.

Consumers can see the product in packaging boxes

.

If the inside product is beautiful

,

it can improve level for the appearance of the product and attract consumers to buy it

.

Effectiveness

:

Compared with other packaging products

,

clear foldable boxes have advantages in manufacturing cost and production speed

.

Besides

,

their cost performance is relatively high

.

Convenience

:

Folding plastic boxes is not only simple to assemble

,

but also brings big convenience for their product packaging

.

No matter it is small quantity production or full container product

.

It improved the efficiency of production greatly

.

Low change cost

:

the cost of changing the printing pattern and size structure is low

,

and the style and structure can be upgraded at any time

.

Safety

:

Clear boxes are durable

,

moisture-proof

,

waterproof

,

dustproof

,

anti-corrosion

,

high toughness

,

strong transport safety performance

.

Transparent folding boxes do not use some chemical elements

. Proto,

it is relatively safe and healthy

.

Distinctive

:

Gift sets look particularly attractive when arranged in a box behind a clear plastic cover

.

Rather than having to open the box and take out each individual gift

,

recipients can simply enjoy and display the items they have received

.
clear plastic folding boxes to suit any need. Clear plastic boxes are popular because they allow your product to sell itself. If you have an attractive product, showcase it in a clear plastic box for visibility and instant recognition.
What are the common structures of foldable clear plastic box?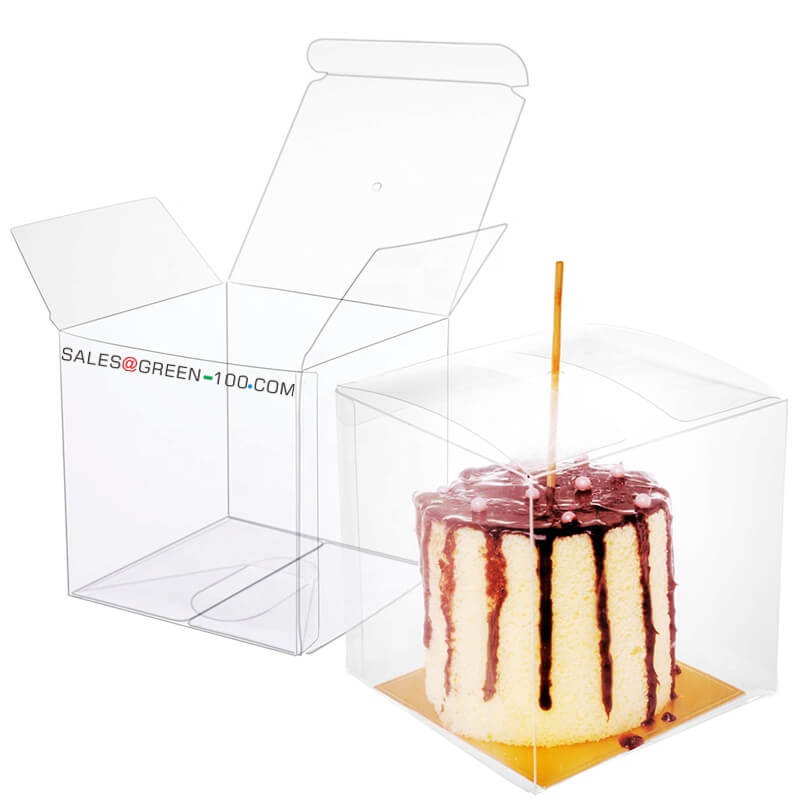 Square Folding Plastic Box
Square Box is a classic shape with the same length, width, and height. foldable square box suitable for decorations, small cakes, and gifts.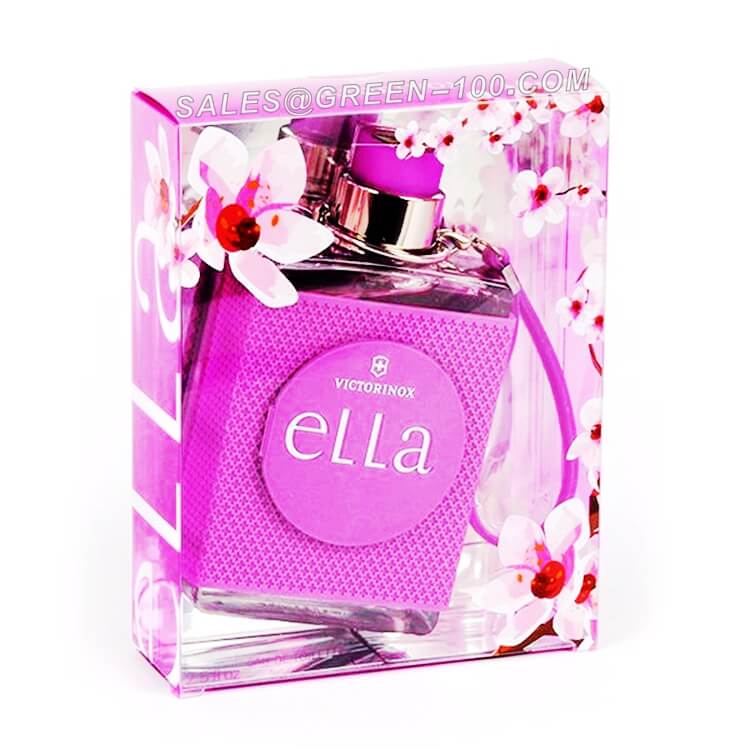 Rectangle Flat Folding Clear Boxes
You u can pack any product in a rectangular box without restrictions, it is adapting to a wide range of industries and applications.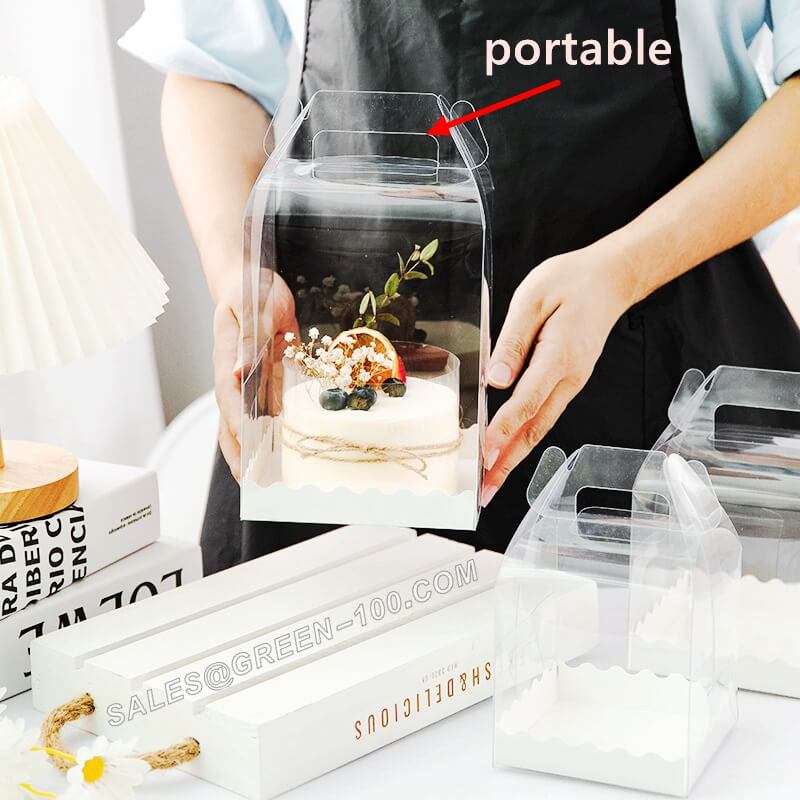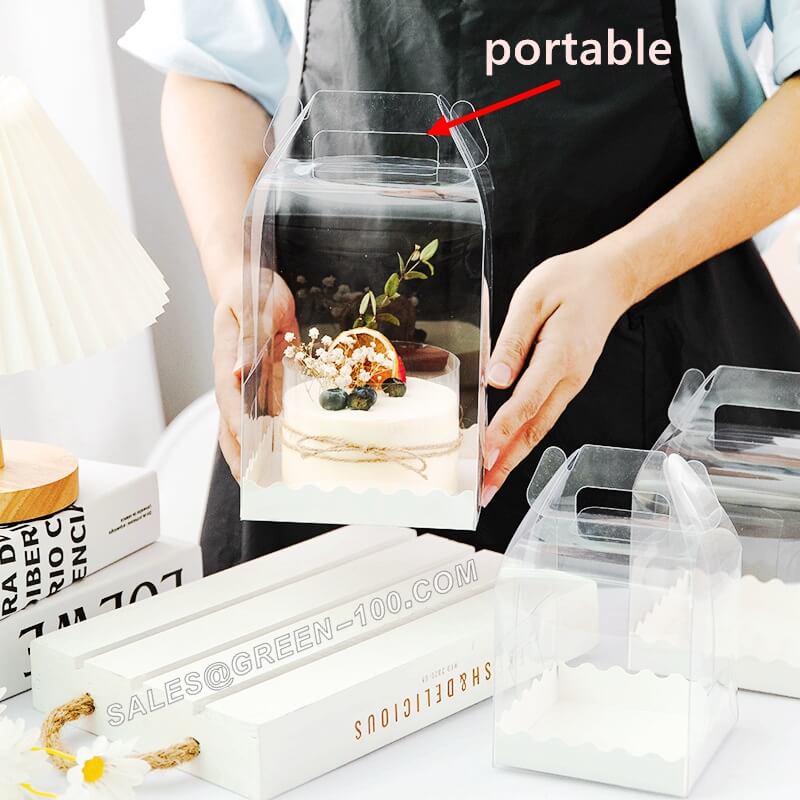 Clear Plastic Gable Boxes
They are used for commercial, retail product display or gift wrapping. Clear plastic gable boxes are flattening transportation and storage. It's also easy to assemble. When assembled, the two sides of the box are folded together to form the handle and the other ends are folded and locked to the handle.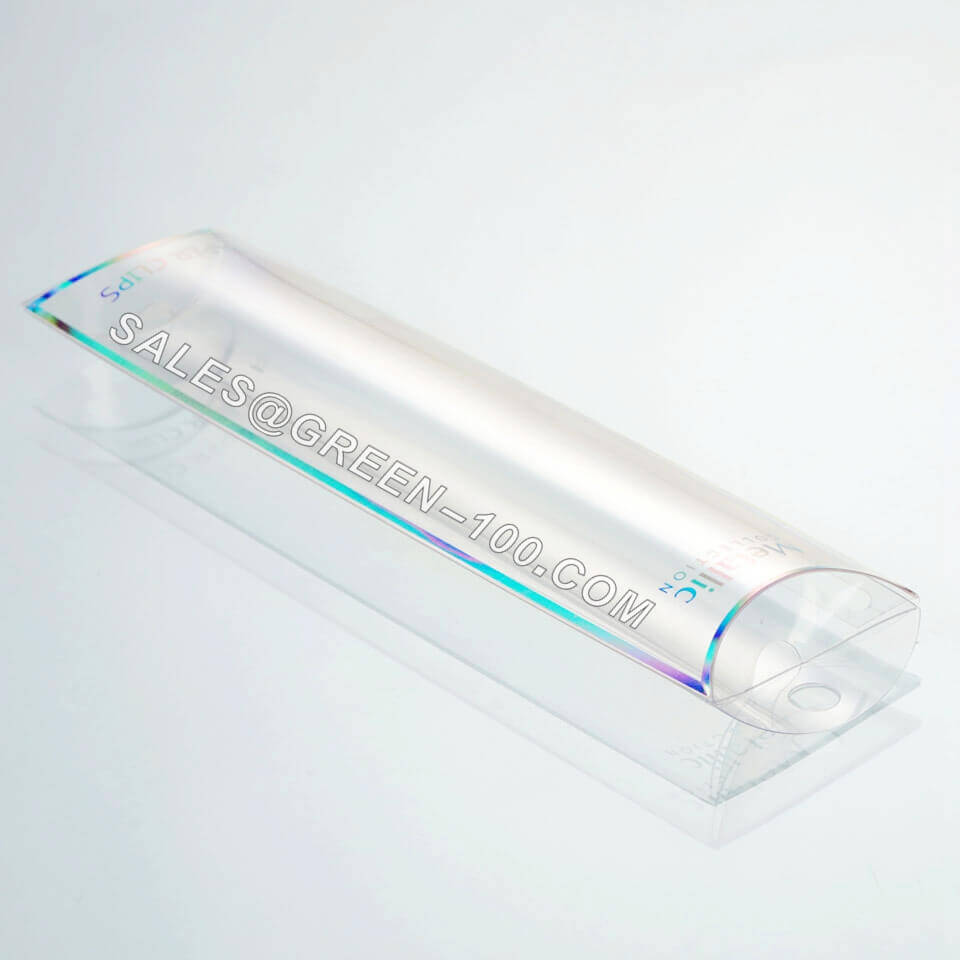 Due to the special structure is particularly popular with customers. This packaging is oval, like a pillow. It is suitable for smaller and lighter products.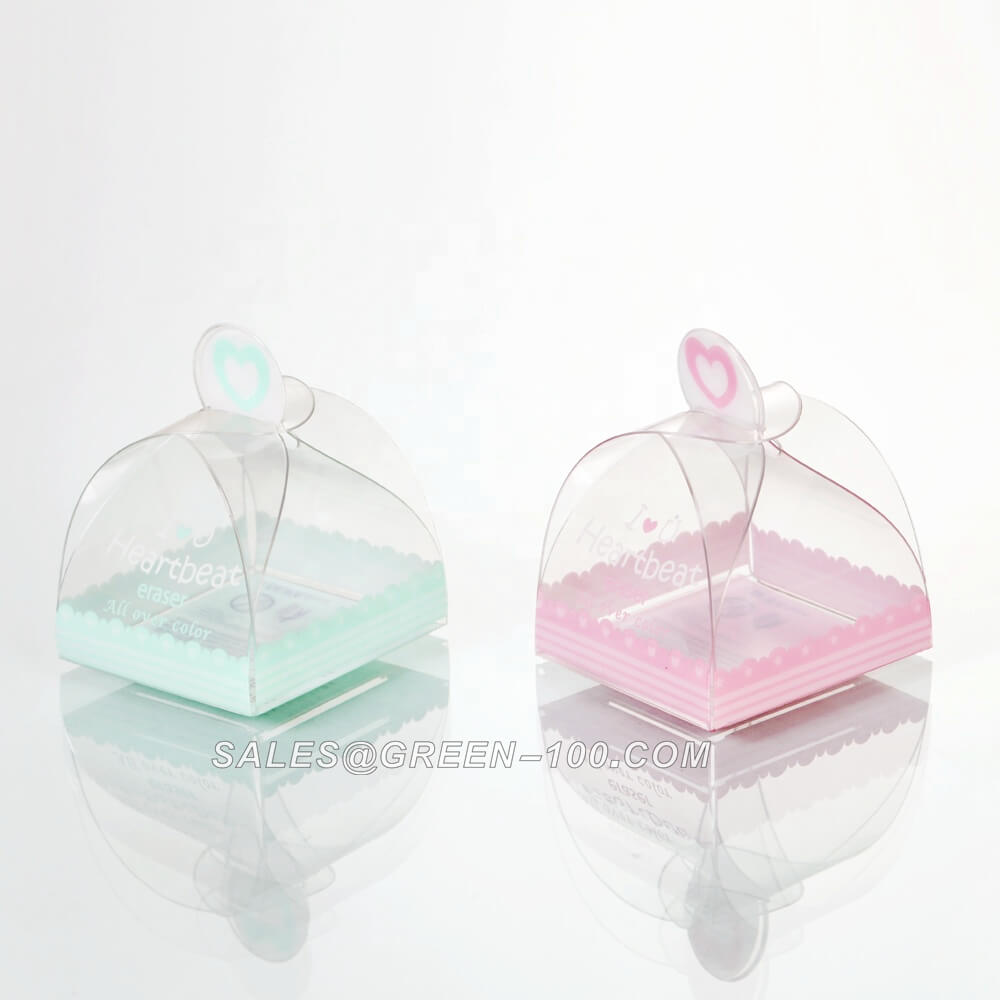 We can also do a bespoke design if you prefer your clear folding carton to have a more playful shape. Hexagonal, octagonal, flower, atd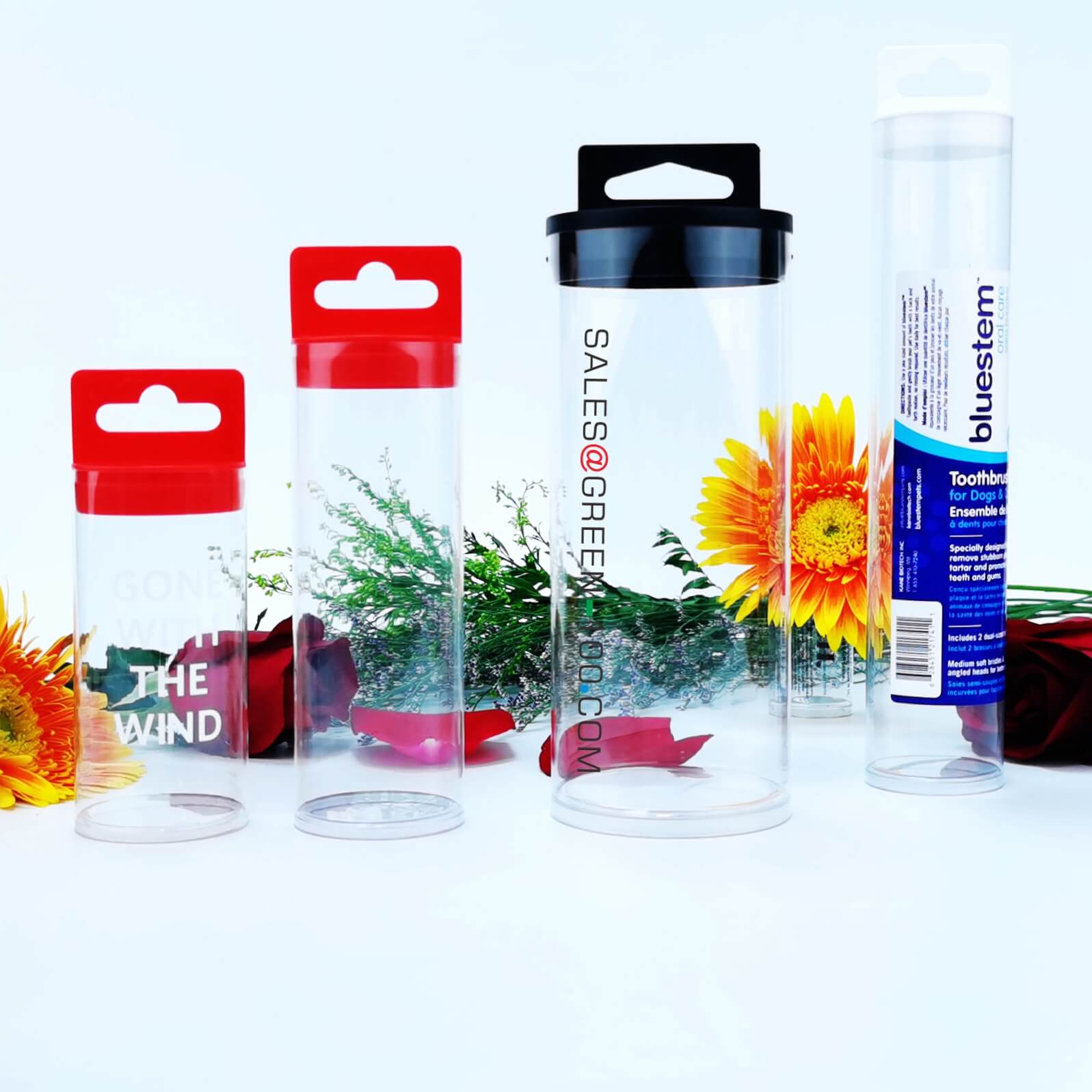 V dárcích se často používají plastové tubové obaly s plastovým víčkem na utěsněném dně, denní nutnosti, balení oděvů a malých digitálních produktů.
Successful cases of clear folding plastic boxes
clear plastic foldable boxes for gift
Clear Plastic Foldable Boxes For Gift are made of a durable, crystal clear Polypropylene material that is recyclable. The shipping and storage cost savings of the folding box is realized by reducing the cubic footage required to ship them. They fold flat when empty and can be stored flat in a warehouse or on a retail shelf, reducing valuable storage space. The boxes fold up in seconds and lock together with tab lock bottoms. Clear Plastic Foldable Boxes For Gift are great for point-of-purchase displays, obal, and storage applications. Custom printing is available on the outside only. Custom sizes are available upon request.
Clear Plastic Foldable Boxes For Gift are one of the most popular items in our company because it has good quality, reasonable price and unique design.
Clear Plastic Folding Cartons are a popular choice for packaging cosmetic and skin care products. The folding carton is the most common form of cosmetic packaging,
The perfect packaging solution is one that not only protects your product but is also aesthetically pleasing. Our clear plastic folding cartons offer a unique way to package your lip gloss, perfume, or other cosmetic products. The crystal clear PVC、DOMÁCÍ MAZLÍČEK、RPET、ECOPET material is sure to make your product stand out on store shelves and in mailers.
The folding carton packaging may be custom made with a wide variety of options such as a clear window to showcase your product, hot foil stamping to add elegance or spot UV for a high end look. Our clear plastic folding cartons are perfect for gift sets or products which require an upscale presentation.
clear plastic folding cartons for Living Packaging
Our clear plastic folding cartons are an elegant and affordable way to package your product.
These clear plastic boxes feature a straight tuck style that is easy to assemble with a positive lock closure. Perfect for gift items and promotional materials, our clear plastic cartons are FDA approved and made from high-quality PET material.
They are suitable for some lightweight textiles, such as silk scarves and ties. Bow tie and T-shirt and socks. Baby underwear and maternity underwear are the best choices for transparent display
1. the box is designed for packaging food, snack and cake
2. the box is made of top quality plastic material PET
3. the box is transparent, which can show the product inside
4. it is food grade safe and recyclable
5. the box is easy to open and take out the food
6. OEM service is welcome
We have a professional QC team to check the quality of every product before it's packed for shipment.
OEM services are available, we can produce according to your requirement.
Electronic plastic box Packaging
Electronic plastic box packaging materials are different from other general packaging materials. Such as commonly used PP material products are more suitable for food packaging. But for our electronics industry needs more PVC material and PET material products. Because these two materials have good transparency and high barrier properties they can better protect our electronic products invoicing and new
Electronic plastic box packaging is a very good choice, which can be customized according to customer requirements and can also make products more beautiful.
The electronic plastic box looks transparent and beautiful, and the anti-counterfeiting effect is good, so the electronic plastic box packaging is often used in some high-end electronic products.
Mobile phone case plastic box packaging
The mobile phone case plastic box packaging is made of environmentally friendly PET material, which can be recycled and is harmless to the environment. It can be used for packaging mobile phone cases of various styles. The upper part of the box has a plastic window, which can have a good display effect and increase the sales of mobile phone cases.
Mobile phone case plastic box packaging uses transparent PET material as its raw material, which has the advantages of transparency, high heat resistance, odolnost vůči oleji, odolnost vůči kyselinám a zásadám, and light weight. The mobile phone case plastic box packaging can be customized according to the customer's needs for printing patterns, logos, etc., and various styles of paper cards can be used in combination with printing on the box body to make it more beautiful and add value to your products. Ve stejnou dobu, it has good moisture resistance and moisture resistance. Navíc, we also provide mobile phone case paper boxes, if you are interested in our products, please feel free to contact us.
1. The material is environmentally friendly, the surface has a bright light, and the high-quality appearance and the appearance is more fashionable;
2. The material of the mobile phone shell packaging box is strong and dense, not easy to damage, durable;
3. The mobile phone shell packaging box can be stacked on top of each other to save space and facilitate transportation;
4. The mobile phone shell packaging box has good mechanical properties, low moisture absorption, and good dimensional stability, which can be applied to various occasions;
toys plastic box packaging, cardboard toy packaging box, custom toy packaging printing, plastic toy packaging bag
We provide a full range of plastic boxes and toys plastic bags. Our products are durable and beautiful. It is not only suitable for children's toys but also suitable for food,cosmetics and so on.
We have many years of production experience in the field of toys plastic boxes and bags. Our products have been exported all over the world, such as Europe, America, Japan and so on. We can provide you with high-quality products at a low price.

Polyvinyl chloride (colloquial: polyvinyl, or simply vinyl; abbreviated: PVC) is the world's third-most widely produced synthetic polymer of plastic (after polyethylene and polypropylene). O 40 million tons of PVC are produced each year.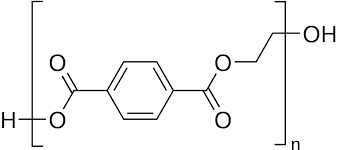 Polyethylene terephthalate(PET)
Polyethylene terephthalate (or poly(ethylene terephthalate), PET, PETE, or the obsolete PETP or PET-P), is the most common thermoplastic polymer resin of the polyester family and is used in fibers for clothing, containers for liquids and foods, and thermoforming for manufacturing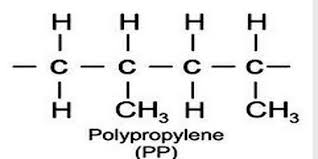 Polypropylen (PP), also known as polypropene, is a thermoplastic polymer used in a wide variety of applications. It is produced via chain-growth polymerization from the monomer propylene.
CUSTOM SILK SCREEN CLEAR PLASTIC BOX PACKAGING
Se vzhledem průhledného plastu, PVC, nebo acetát, čirý PET je silný, recyklovatelné, a ideální pro luxusní obaly, které vyžadují sítotisk.
CMYK COLOR OFFSET PRINTING CLEAR PLASTIC BOX PACKAGING
Proces, který zvolíte pro tisk barvy na obal, ovlivní kvalitu hotového produktu, konzistence vašeho návrhu od objednávky k objednávce, a vaše celkové náklady. Proto 4 barevný procesní tisk je ideální pro výrobu obalových návrhů s působivým brandingem. CMYK (Tyrkysová, Purpurová, Žlutá, Klíč/Černý) grafiku lze tisknout v průsvitných i neprůhledných inkoustových efektech, zanechání jasných nebo průsvitných oblastí na vašem čirém PET balení pro prezentaci vašeho produktu. Toto je to nejlepší z obou světů, kde si můžete obarvit obal a ukázat, co je uvnitř.
Cosmetic Offset Printing Transparent And Opaque Window Combination
Při tisku na čirý substrát, jako je PET pro váš skládací box nebo gravitační podavač, můžete tisknout průsvitné barvy nebo tisknout bílý inkoust za barvy, aby byly barvy neprůhledné a vypadaly stejně živé, jako by byly vytištěny na bílý substrát. S tímto vědomím, náš typický 4 barevný proces je ve skutečnosti 4 barvy plus bílá plus UV ochranný povlak. Můžeme přidat i speciální přímé barvy (PMS) nebo extra bílou do a 4 běh barevného procesu. Tento proces nám umožňuje tisknout průsvitné a neprůhledné barvy, k vytváření grafiky s kovovými efekty a realistickými odstíny pleti. Můžeme také přidat detaily, jako je textura, vůně, ražba, horkou nebo studenou fólií, a vysoce lesklé nebo matné efekty pro vytvoření vašeho ideálního designu.
Food-Grade Biscuit Pet Plastic Box Adopts CMYK+Pantone Color Combination
Použitím pouze čtyř barev v různých procentech-C (tyrkysová), M (purpurová), A (žlutá) a K (Černá)-můžete vytvořit neomezený počet barev, díky čemuž je tisk CMYK plnobarevné fotografie Ideální pro a další složité obrázky obsahující více než tři barvy. Navíc, můžete přidat přímé barvy a laky pro přesné sladění a efekty. Jiné procesy barevného tisku používají jednu barvu inkoustu k vydláždění půdy, a tento proces používá drobné tečky inkoustu CMYK k vytvoření obrázků s neomezenými barevnými variacemi. Tisk na průhledné PET skládací kartonové obaly vám umožní předvést vaše produkty, vybudovat silnou image značky, a poskytují designovou úroveň, které papírový obal nemůže dosáhnout. Vytvořte realistické tóny pleti, hladké přechody a kovové efekty, a mají neuvěřitelnou konzistenci mezi tiskovými úlohami.
ADVANCED CRAFT OF PLASTIC BOX PACKAGING-EMBOSSING
Simple Embossed Logo Graphics And Brand Text
Můžeme vám vyrazit LOGO značky a textový popis, kamkoli budete potřebovat. Nejenže zdůrazňuje vizuální efekt, ale také zvyšuje obtížnost a náklady na reprodukovatelnost. Efekt embosování na povrchu plastové krabičky je mnohem silnější než 3D stereoskopický efekt stejného procesu na povrchu papíru. A na dotek nepřekonají ostatní obalové materiály.
Eco Pet Transparent Plastic Box

+

Embossed LOGO
Na ražbě je něco neobvyklého a působivého. Zákazníkovi říká, že produkt je výjimečný a jedinečný, a stojí za to se podívat znovu. AGREEN PACKAGING dokáže dokonale potisknout váš průhledný plastový obal, vytvoření skutečného trojrozměrného vzhledu a dojmu pro image vašeho produktu. V kombinaci s ofsetovým tiskem nebo razítky z hliníkové fólie, ražba může přidat stupeň, hodnota, a přitahují vaše produkty.
HIGH-FREQUENCY SOFT WIRE TECHNOLOGY REPLACES ORDINARY DIE-CUTTING LINES
Eco Pet Transparent Plastic Box

+

Embossed LOGO
Interní testovací data společnosti využívají plastové krabice s měkkými liniemi + automatická spodní spona, který je 5-6 krát efektivnější než řezání a montáž v běžném měřítku.
Průhledná obalová krabice s měkkými liniemi může nejen zlepšit efektivitu montáže, ale také posílit trojrozměrný efekt kombinovaného lisování obalové krabice. S naším unikátním plastem proti poškrábání, může se vyhnout otiskům prstů, škrábance, a nečistoty i během přepravy nebo vystavení na polici.
CUSTOM FOIL PRINTING AND STAMPING SERVICES
Bronzování zahrnuje více, protože vyžaduje vytvoření formy nebo razítka. Razítko přiléhá na papír a zahřívá a tlačí na fólii, když prochází pod ní. Tlak a teplo dodávají hliníkové fólii luxusní a poutavou texturu.
Pokud chcete upoutat pozornost spotřebitelů a zlepšit pevnost značky hned napoprvé, Ekologicky šetrná PET a průhledná obalová krabice z PVC s procesem horké ražby je perfektní kombinací.
Pro studený tisk fólií, nejprve se na papír nanese lepidlo. Fólie se poté vyrazí a lepidlo se vysuší UV světlem. Poté se fólie odstraní, ponechání dílů nad lepidlem. Tento proces je vynikající volbou pro aplikaci fólie na velkou plochu obalu. Obvykle nejprve zpracováváme velkoplošnou horkou ražbu nebo laserovou horkou ražbu na plastové materiály, a poté na horkou ražbu vytiskněte bodové barevné kombinace CMYK, aby celý tištěný vzor mohl být luxusní a jiskřivý.
Horká ražba, horké stříbro, a laserové stříbro jsou vzory, které se spotřebitelům líbí. Tento proces jsme již dlouho používali v dárcích, jídlo, zdravotní produkty, kosmetika a kosmetické nástroje, atd.
Plastic Material Anti-Scratch

,

Dirty And Wear-Resistant Process
za normálních podmínek, na průhledných materiálech snadno zůstávají otisky prstů a škrábance. Jedinečný materiál odolný proti poškrábání a technologie zelených obalů vám ulehčí používání plastových obalových materiálů bez obav z poškrábání a skvrn. I když se dotknete otisků prstů a nečistot, lze je snadno vymazat bez zanechání stop.
Why is the plastic box broken when folded

?
Selection of raw materials

.

The quality of raw materials in the market is uneven

.

Although the surface looks completely transparent

,

the toughness

,

scratch resistance

,

and anti-static performance of plastic materials are always particularly important indicators in use

,

but they can not be judged visually

.

Our cooperation with China's top plastic material suppliers and national enterprises is to absorb their technology accumulation and quality monitoring

.

Only the use of advantageous raw materials can provide our guests with eye-catching plastic box packaging

.

Mold structure design and production monitoring are other important indicators

.

The packaging box structure we made has completely solved the damage problem of mold defective products through the use improvement and independent research and development of many customers

.

Many experienced production line workers are our solid quality backing

.
Why are there white spots and scratches on the surface of transparent packaging box

?
There are two reasons for the white circular pattern

.

One is that the electrostatic value on the surface of the plastic box is relatively high

,

which absorbs small dust in the air

. Druhý,

there is no safe packaging

,

transportation

,

and movement process

,

the friction between multiple products

Surface scratches are the most common problem of plastic boxes

,

because the hardness of transparent plastics is relatively low

,

which is caused by friction in the contact process of other substances or in the production process

.

We take the lead in developing and using scratch-resistant materials to solve the scratch problem in the process of production

,

transportation

,

and sales display

.
Problémy hodné pozornosti při přizpůsobování průhledných plastových krabic