clear plastic folding boxes & flat folding clear boxes Manufacturers and suppliers
Clear plastic folding boxes visibility and safety and products that are popular higher than in cartons. Flat folding clear box packaging with color printing is both practical and attractive under the blessing of counters and lights. Clear Box Packaging has affluent experience in manufacturing and designing foldable clear plastic boxes. Screen printing, offset printing, bronzing, silver ironing, timbul, and soft line technology are our specialties.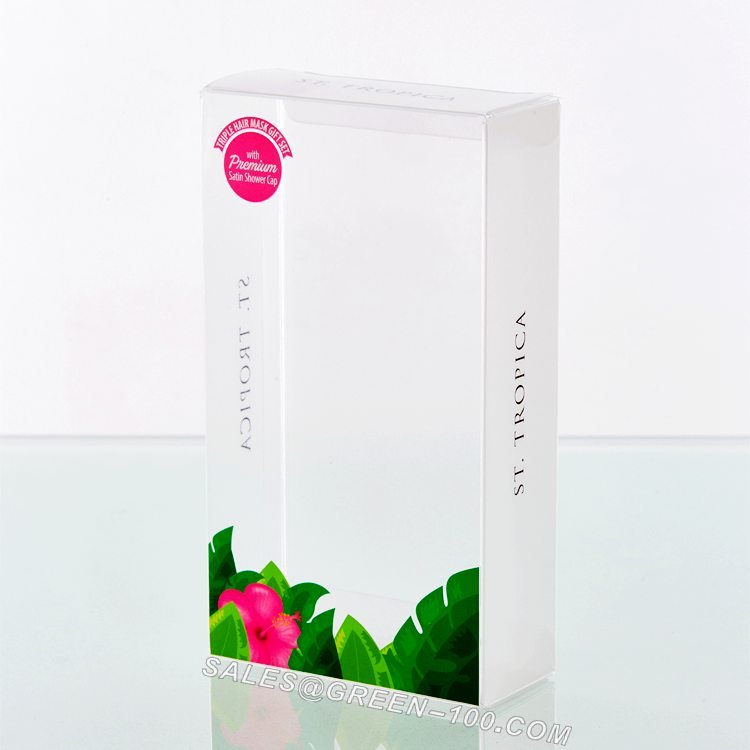 With our expertise in high-quality printing, we can achieve your color goals and provide you with an eye-catching flat-folding clear PVC boxes package. We can use leading PVC substrates to make, print, and emboss on your plastic folding carton.
flat folding clear pet boxes
We produce biodegradable transparent flat-folding clear pet boxes, highlighting the products inside. Our team will work with you to design a transparent plastic box that can effectively display your product and highlight its most attractive functions.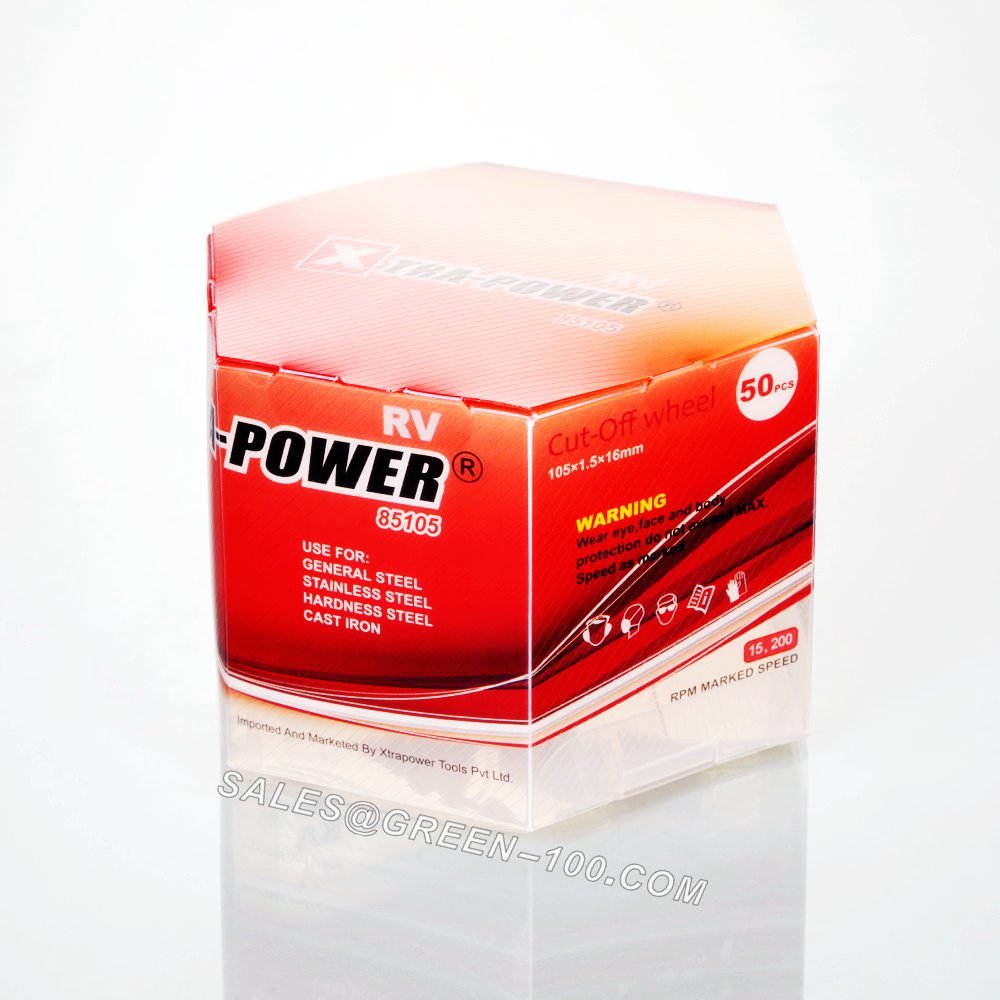 folding clear plastic pp boxes
With our advanced printing technology and manufacturing experience, we can produce transparent or translucent frosted PP folding carton packaging to add value to your products and let them enter the hands of consumers from the shelf.
Clear Plastic Folding box manufacturing process

-

Ultimate Guide
Why choose clear plastic folding boxes
plastic folding boxes are easy to assemble with soft lines, and they ship flat, saving you money on shipping costs and storage space. Flexibility in design and incredible graphic options, with up to 8-color offset printing. silk-screen printing and foil stamping are available. FDA food-grade and biodegradable materials are available on request.
Regardless of the type of product, companies including clear plastic substrates in their package design notice a number of significant benefits. Clear packages give brands a competitive edge in the following ways:
Intuition

:

Our clear vinyl boxes are made of the latest transparent materials

.

Consumers can see the product in packaging boxes

.

If the inside product is beautiful

,

it can improve level for the appearance of the product and attract consumers to buy it

.

Effectiveness

:

Compared with other packaging products

,

clear foldable boxes have advantages in manufacturing cost and production speed

. Selain itu,

their cost performance is relatively high

.

Convenience

:

Folding plastic boxes is not only simple to assemble

,

but also brings big convenience for their product packaging

.

No matter it is small quantity production or full container product

.

It improved the efficiency of production greatly

.

Low change cost

:

the cost of changing the printing pattern and size structure is low

,

and the style and structure can be upgraded at any time

.
Keselamatan:

Clear boxes are durable

,

moisture-proof

,

waterproof

,

dustproof

,

anti-corrosion

,

high toughness

,

strong transport safety performance

.

Transparent folding boxes do not use some chemical elements

. Oleh itu,

it is relatively safe and healthy

.

Distinctive

:

Gift sets look particularly attractive when arranged in a box behind a clear plastic cover

.

Rather than having to open the box and take out each individual gift

,

recipients can simply enjoy and display the items they have received

.
clear plastic folding boxes to suit any need. Clear plastic boxes are popular because they allow your product to sell itself. If you have an attractive product, showcase it in a clear plastic box for visibility and instant recognition.
What are the common structures of foldable clear plastic box?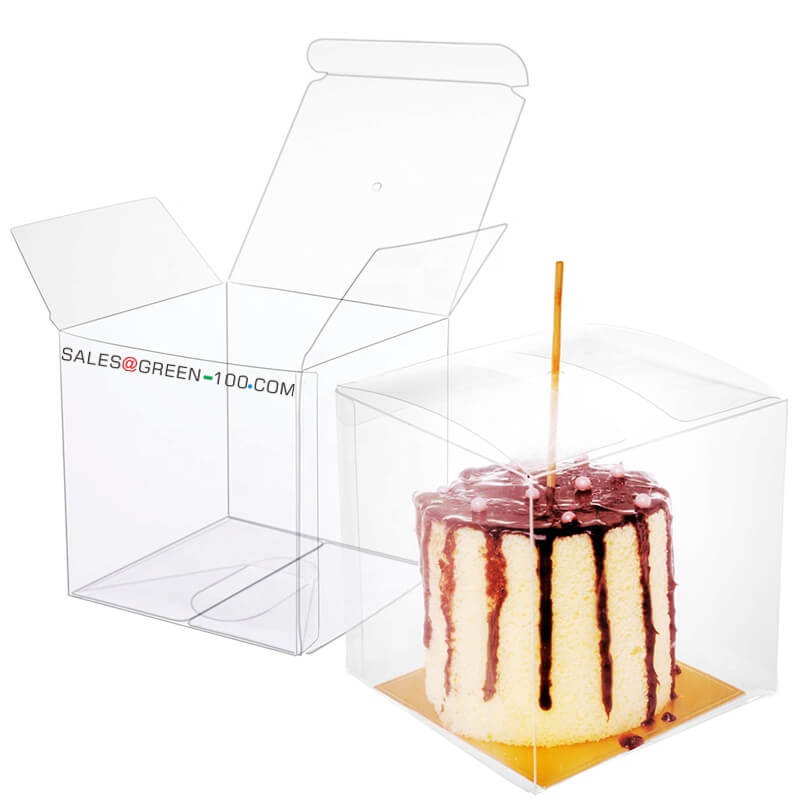 Square Folding Plastic Box
Square Box is a classic shape with the same length, width, and height. foldable square box suitable for decorations, small cakes, and gifts.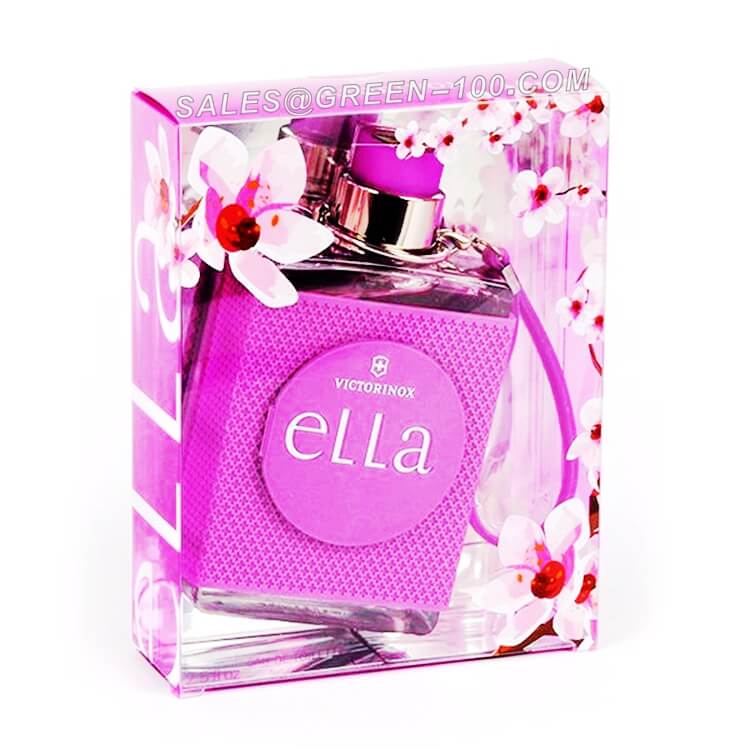 Rectangle Flat Folding Clear Boxes
You u can pack any product in a rectangular box without restrictions, it is adapting to a wide range of industries and applications.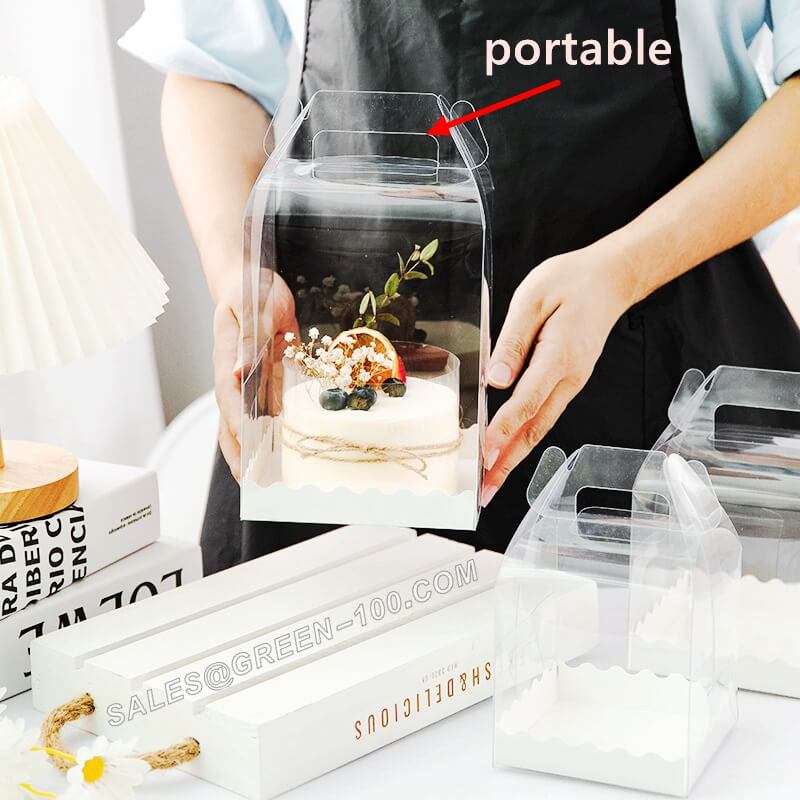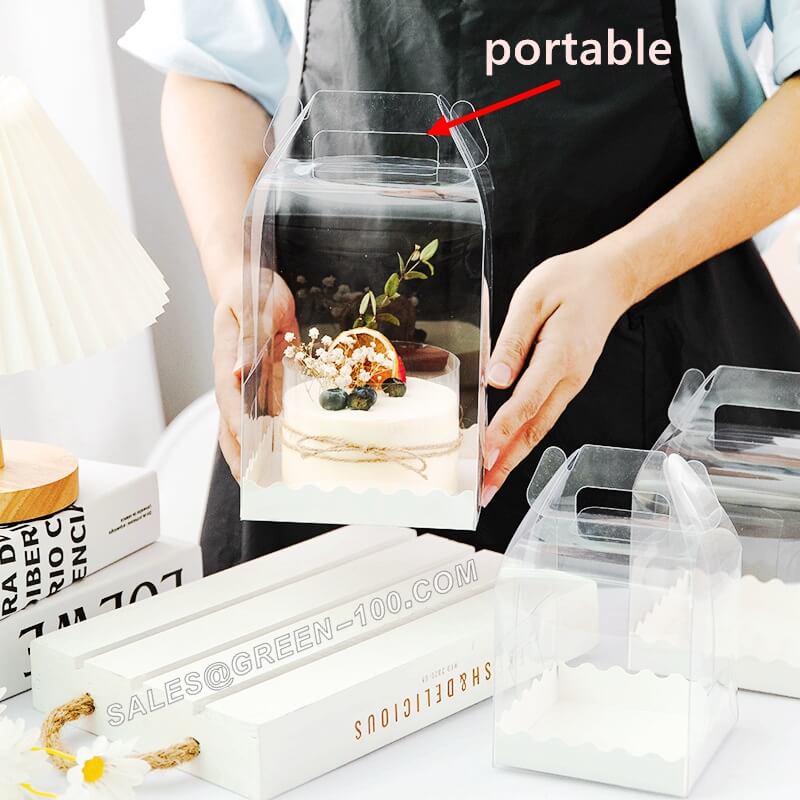 Clear Plastic Gable Boxes
They are used for commercial, retail product display or gift wrapping. Clear plastic gable boxes are flattening transportation and storage. It's also easy to assemble. When assembled, the two sides of the box are folded together to form the handle and the other ends are folded and locked to the handle.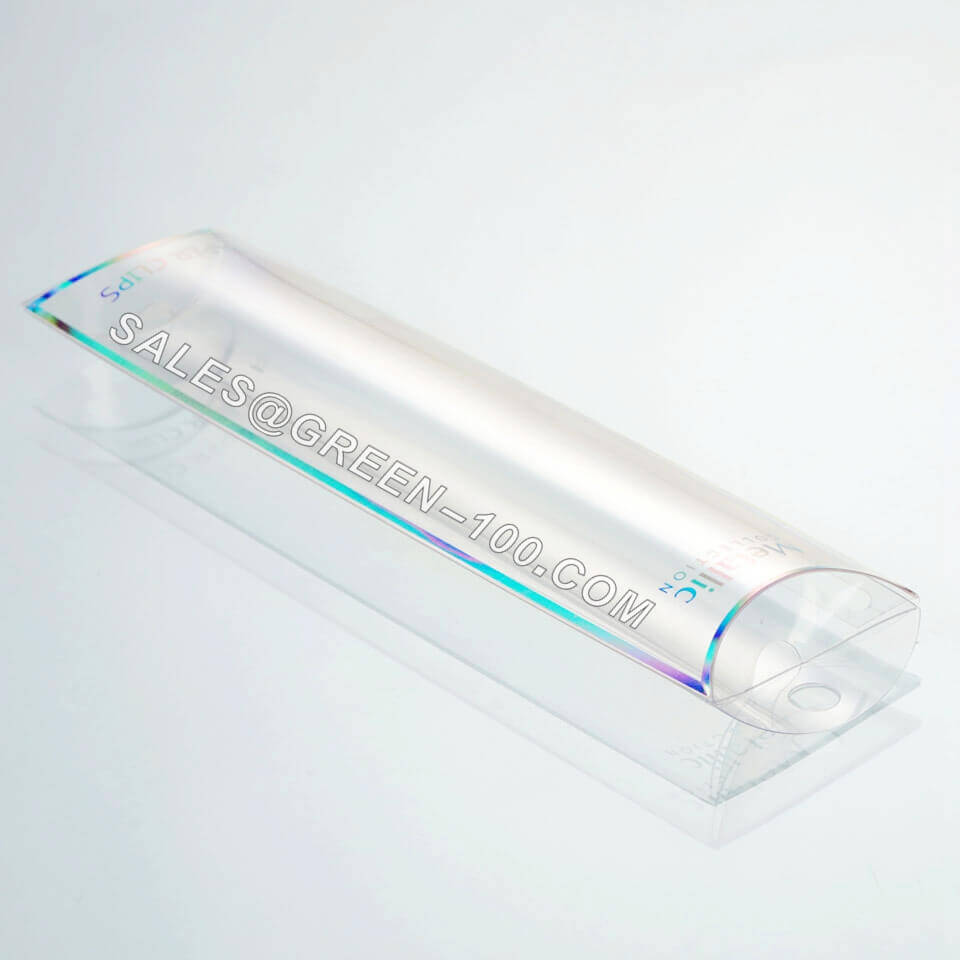 Due to the special structure is particularly popular with customers. This packaging is oval, like a pillow. It is suitable for smaller and lighter products.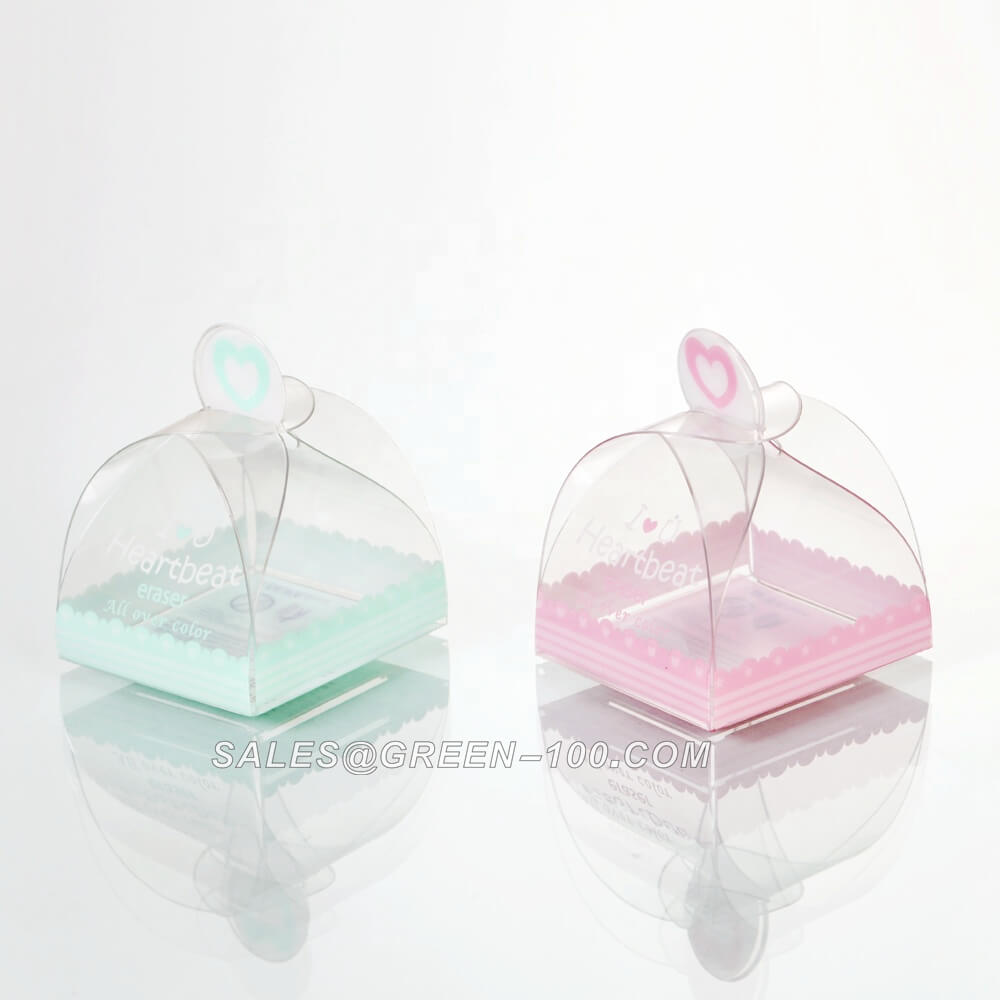 We can also do a bespoke design if you prefer your clear folding carton to have a more playful shape. Hexagonal, octagonal, flower, dan lain-lain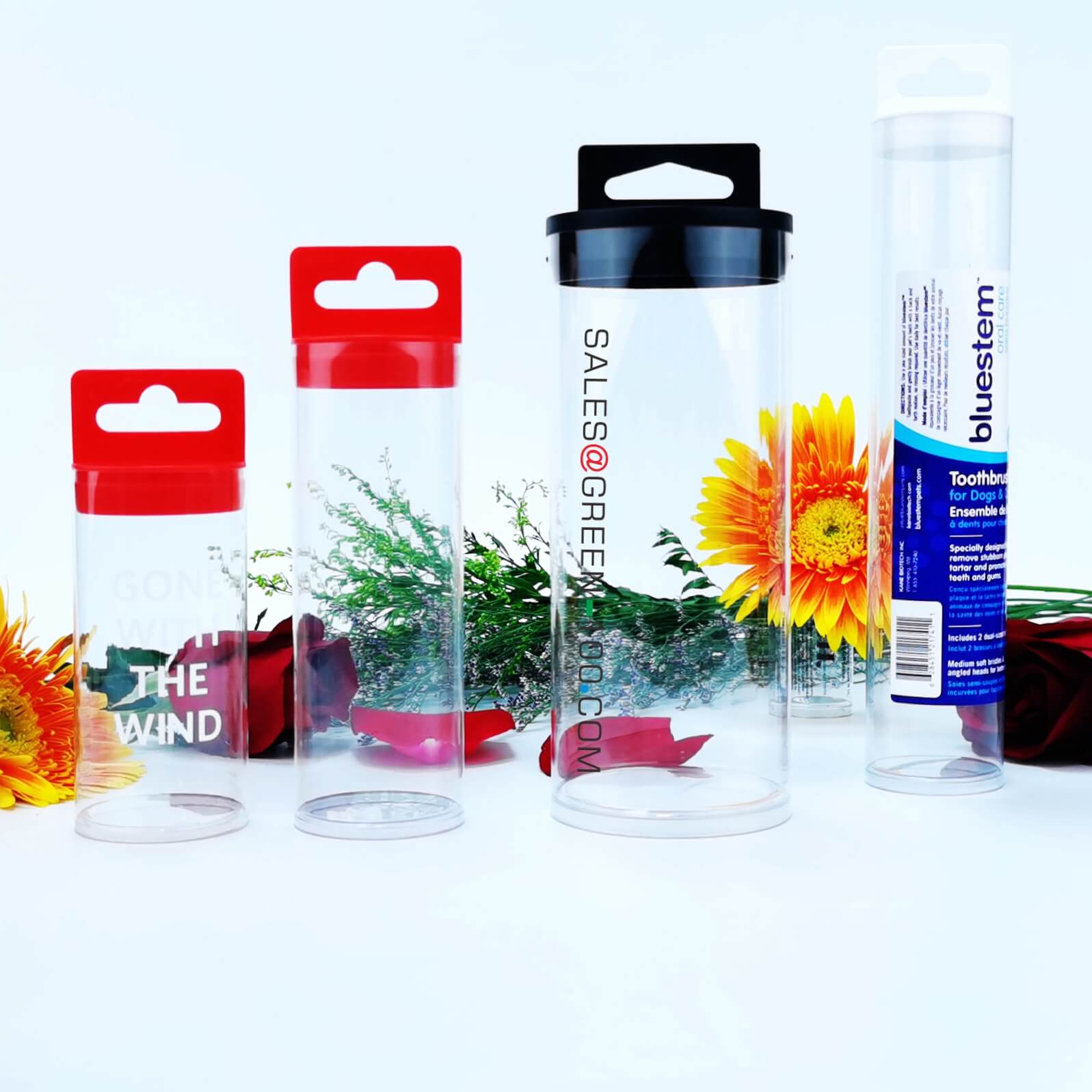 Pembungkusan tiub plastik dengan penutup plastik di bahagian bawah yang dimeterai sering digunakan dalam hadiah, keperluan harian, pakaian dan pembungkusan produk digital kecil.
Successful cases of clear folding plastic boxes
clear plastic foldable boxes for gift
Clear Plastic Foldable Boxes For Gift are made of a durable, crystal clear Polypropylene material that is recyclable. The shipping and storage cost savings of the folding box is realized by reducing the cubic footage required to ship them. They fold flat when empty and can be stored flat in a warehouse or on a retail shelf, reducing valuable storage space. The boxes fold up in seconds and lock together with tab lock bottoms. Clear Plastic Foldable Boxes For Gift are great for point-of-purchase displays, pembungkusan, and storage applications. Custom printing is available on the outside only. Custom sizes are available upon request.
Clear Plastic Foldable Boxes For Gift are one of the most popular items in our company because it has good quality, reasonable price and unique design.
Clear Plastic Folding Cartons are a popular choice for packaging cosmetic and skin care products. The folding carton is the most common form of cosmetic packaging,
The perfect packaging solution is one that not only protects your product but is also aesthetically pleasing. Our clear plastic folding cartons offer a unique way to package your lip gloss, perfume, or other cosmetic products. The crystal clear PVC、SELERA、RPET、ECOPET material is sure to make your product stand out on store shelves and in mailers.
The folding carton packaging may be custom made with a wide variety of options such as a clear window to showcase your product, hot foil stamping to add elegance or spot UV for a high end look. Our clear plastic folding cartons are perfect for gift sets or products which require an upscale presentation.
clear plastic folding cartons for Living Packaging
Our clear plastic folding cartons are an elegant and affordable way to package your product.
These clear plastic boxes feature a straight tuck style that is easy to assemble with a positive lock closure. Perfect for gift items and promotional materials, our clear plastic cartons are FDA approved and made from high-quality PET material.
They are suitable for some lightweight textiles, such as silk scarves and ties. Bow tie and T-shirt and socks. Baby underwear and maternity underwear are the best choices for transparent display
1. the box is designed for packaging food, snack and cake
2. the box is made of top quality plastic material PET
3. the box is transparent, which can show the product inside
4. it is food grade safe and recyclable
5. the box is easy to open and take out the food
6. OEM service is welcome
We have a professional QC team to check the quality of every product before it's packed for shipment.
OEM services are available, we can produce according to your requirement.
Electronic plastic box Packaging
Electronic plastic box packaging materials are different from other general packaging materials. Such as commonly used PP material products are more suitable for food packaging. But for our electronics industry needs more PVC material and PET material products. Because these two materials have good transparency and high barrier properties they can better protect our electronic products invoicing and new
Electronic plastic box packaging is a very good choice, which can be customized according to customer requirements and can also make products more beautiful.
The electronic plastic box looks transparent and beautiful, and the anti-counterfeiting effect is good, so the electronic plastic box packaging is often used in some high-end electronic products.
Mobile phone case plastic box packaging
The mobile phone case plastic box packaging is made of environmentally friendly PET material, which can be recycled and is harmless to the environment. It can be used for packaging mobile phone cases of various styles. The upper part of the box has a plastic window, which can have a good display effect and increase the sales of mobile phone cases.
Mobile phone case plastic box packaging uses transparent PET material as its raw material, which has the advantages of transparency, high heat resistance, oil resistance, acid and alkali resistance, and light weight. The mobile phone case plastic box packaging can be customized according to the customer's needs for printing patterns, logos, dan lain-lain., and various styles of paper cards can be used in combination with printing on the box body to make it more beautiful and add value to your products. Pada masa yang sama, it has good moisture resistance and moisture resistance. Sebagai tambahan, we also provide mobile phone case paper boxes, if you are interested in our products, please feel free to contact us.
1. The material is environmentally friendly, the surface has a bright light, and the high-quality appearance and the appearance is more fashionable;
2. The material of the mobile phone shell packaging box is strong and dense, not easy to damage, durable;
3. The mobile phone shell packaging box can be stacked on top of each other to save space and facilitate transportation;
4. The mobile phone shell packaging box has good mechanical properties, low moisture absorption, and good dimensional stability, which can be applied to various occasions;
toys plastic box packaging, cardboard toy packaging box, custom toy packaging printing, plastic toy packaging bag
We provide a full range of plastic boxes and toys plastic bags. Our products are durable and beautiful. It is not only suitable for children's toys but also suitable for food,cosmetics and so on.
We have many years of production experience in the field of toys plastic boxes and bags. Our products have been exported all over the world, such as Europe, America, Japan and so on. We can provide you with high-quality products at a low price.

Polyvinyl chloride (colloquial: polyvinyl, or simply vinyl; abbreviated: PVC) is the world's third-most widely produced synthetic polymer of plastic (after polyethylene and polypropylene). Tentang 40 million tons of PVC are produced each year.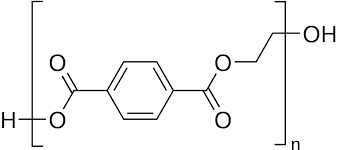 Polyethylene terephthalate(PET)
Polyethylene terephthalate (or poly(ethylene terephthalate), PET, PETE, or the obsolete PETP or PET-P), is the most common thermoplastic polymer resin of the polyester family and is used in fibers for clothing, containers for liquids and foods, and thermoforming for manufacturing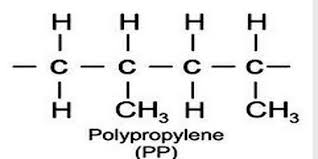 Polipropilena (PP), also known as polypropene, is a thermoplastic polymer used in a wide variety of applications. It is produced via chain-growth polymerization from the monomer propylene.
CUSTOM SILK SCREEN CLEAR PLASTIC BOX PACKAGING
With the look of clear plastic, PVC, or acetate, clear PET is strong, boleh dikitar semula, and perfect for upscale packaging that requires silk screen printing.
CMYK COLOR OFFSET PRINTING CLEAR PLASTIC BOX PACKAGING
The process you choose for printing color on your packaging will influence the quality of the finished product, the consistency of your design from order to order, and your overall costs. That's why 4 color process printing is ideal for producing packaging designs with impact branding. CMYK (Cyan, Magenta, Yellow, Key/Black) graphics can be printed in both translucent and opaque ink effects, leaving clear or translucent areas on your clear PET package to showcase your product. This is the best of both worlds where you can color brand your packaging and show what's inside.
Cosmetic Offset Printing Transparent And Opaque Window Combination
When printing on a clear substrate such as PET for your folding box package or gravity feeder, you can print translucent colors or print white ink behind the colors to make the colors opaque and appear just as vibrant as if they were printed on a white substrate. With this in mind, our typical 4 color process is actually 4 colors plus white plus a UV protective coating. We can also add specialty spot colors (PMS) or an extra white to a 4 color process run. This process enables us to print translucent and opaque colors, to create graphics with metallic effects and realistic skin tones. We can also add details like texture, fragrance, timbul, hot or cold foil, and high-gloss or matte effects to create your ideal design.
Food-Grade Biscuit Pet Plastic Box Adopts CMYK+Pantone Color Combination
By using only four colors at different percentages-C (cyan), M (magenta), Y (yellow) and K (black)-you can create an unlimited number of colors, which makes CMYK printing a full-color photo Ideal for and other complex images containing more than three colors. Sebagai tambahan, you can add spot colors and varnishes for precise matching and effects. Other color printing processes use one color of ink to pave the ground, and this process uses tiny dots of CMYK ink to create images with unlimited color variations. Printing on transparent PET folding carton packaging allows you to showcase your products, build a strong brand image, and provide a design level that paper packaging cannot achieve. Create realistic skin tones, smooth gradients and metallic effects, and have incredible consistency between print jobs.
ADVANCED CRAFT OF PLASTIC BOX PACKAGING-EMBOSSING
Simple Embossed Logo Graphics And Brand Text
We can emboss your brand LOGO and text description wherever you need. It not only highlights the visual effect but also increases the difficulty and cost of reproducibility. The effect of embossing on the surface of the plastic box is much stronger than the 3D stereoscopic effect of the same process on the surface of the paper. And the touch is unsurpassed by other packaging materials.
Eco Pet Transparent Plastic Box

+

Embossed LOGO
There is something unusual and impressive about embossing. It tells the customer that the product is outstanding and unique, and it's worth taking another look. AGREEN PACKAGING can imprint your transparent plastic packaging perfectly, creating a true three-dimensional look and feel for your product image. When combined with offset printing or aluminum foil stamps, embossing can add a grade, nilai, and shelf appeal to your products.
HIGH-FREQUENCY SOFT WIRE TECHNOLOGY REPLACES ORDINARY DIE-CUTTING LINES
Eco Pet Transparent Plastic Box

+

Embossed LOGO
The company's internal test data adopts plastic box packaging with soft lines + automatic bottom buckle, which is 5-6 times more efficient than normal-scale cutting and assembly.
The transparent packaging box with soft lines can not only improve the assembly efficiency but also strengthen the three-dimensional effect of the combined molding of the packaging box. With our unique anti-scratch plastic, it can avoid fingerprints, scratches, and dirt even during transportation or shelf display.
CUSTOM FOIL PRINTING AND STAMPING SERVICES
Bronzing involves more because it requires the creation of a mold or stamp. The stamp sets on top of the paper and heats and presses on the foil as it passes underneath. The pressure and heat give the aluminum foil a luxurious and eye-catching texture.
If you want to attract the attention of consumers and improve the brand's firmness in the first time, the ecologically friendly PET and transparent PVC material packaging box with hot stamping process is a perfect combination.
For cold foil printing, an adhesive is first applied to the paper. The foil is then stamped and the adhesive is dried using UV light. The foil is then removed, leaving the parts above the adhesive. This process is an excellent choice for applying foil to a large area of the packaging. Usually we first process large-area hot stamping or laser hot stamping on plastic materials, and then print CMYK dot color combinations on the hot stamping, so that the entire printed pattern can be luxurious and sparkling.
Hot stamping, hot silver, and laser silver are the designs that consumers like. We have long used this process in gifts, makanan, health products, cosmetics and beauty tools, dan lain-lain.
Plastic Material Anti-Scratch

,

Dirty And Wear-Resistant Process
Under normal circumstances, transparent materials are easy to have fingerprints and scratches. The unique scratch-resistant material and technology of agreen packaging make you feel relieved to use plastic packaging materials without worrying about scratches and stains. Even if fingerprints and dirt are touched, they can be easily erased without leaving traces.
Why is the plastic box broken when folded

?
Selection of raw materials

.

The quality of raw materials in the market is uneven

.

Although the surface looks completely transparent

,

the toughness

,

scratch resistance

,

and anti-static performance of plastic materials are always particularly important indicators in use

,

but they can not be judged visually

.

Our cooperation with China's top plastic material suppliers and national enterprises is to absorb their technology accumulation and quality monitoring

.

Only the use of advantageous raw materials can provide our guests with eye-catching plastic box packaging

.

Mold structure design and production monitoring are other important indicators

.

The packaging box structure we made has completely solved the damage problem of mold defective products through the use improvement and independent research and development of many customers

.

Many experienced production line workers are our solid quality backing

.
Why are there white spots and scratches on the surface of transparent packaging box

?
There are two reasons for the white circular pattern

.

One is that the electrostatic value on the surface of the plastic box is relatively high

,

which absorbs small dust in the air

. Kedua,

there is no safe packaging

,

transportation

,

and movement process

,

the friction between multiple products

Surface scratches are the most common problem of plastic boxes

,

because the hardness of transparent plastics is relatively low

,

which is caused by friction in the contact process of other substances or in the production process

.

We take the lead in developing and using scratch-resistant materials to solve the scratch problem in the process of production

,

transportation

,

and sales display

.
Masalah yang patut diberi perhatian dalam menyesuaikan kotak plastik lutsinar