1. What is the Polyethylene terephthalate (PET)?
Polyethylene terephthalate is a polyester plastic composed of purified terephthalic acid and modified ethylene glycol, which is highly recyclable.
PET— is the common name of Polyethylene terephthalate. Because of PET's high thermal stability, strong permeability resistance, crystal clear, lightweight and durable, also, after decomposition of PET, there are three elements C, H and O, which can be 100% recycling and will not cause pollution to the environment. So PET is very popular in packaging materials of products in different industries.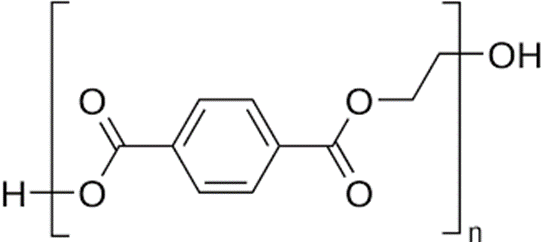 2. How is polyethylene terephthalate recycled?
The first step: Needs to collect and classify post-consumer PET material.
Collect large quantities of clear PET bottles and retail packaging through curbside recycling programs, large-scale events, or sorting from other recyclable materials at material recycling centers, and then ship to a PET recycling facility. This process requires proper packaging and storage to reduce product contamination.
Upon arrival at the recycling facility, different PET products are sorted, like PET plastic bottles and PET clear boxes.
The second step: the classified PET is recycled in the following three ways.
– Clean and remelt the old PET products to make new PET packaging material or new PET plastic bottles
– Using chemical reagents. The old PET materials are chemically decomposed to the basic raw materials and then convert to new PET recycling.
– Thermal recycling. Sometimes, the PET packaging is too dirty and contaminated (cannot be properly cleaned ), it can be thermal recycling, which is a safe and efficient source of energy.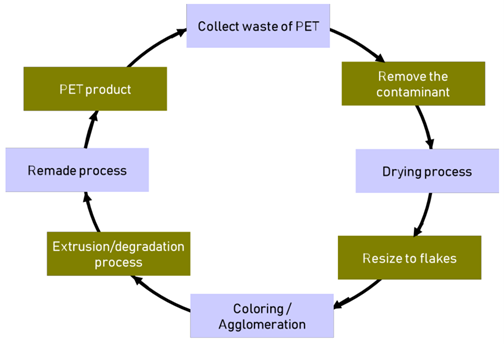 3. Why recycled the PET Packaging?
Using recycled PET instead of raw resin for production, the energy consumption is lower, will get lower cost and smaller environmental impact. The recycled PET material is also named RPET material.
As we know, PET is a recycled polyester plastic, which means that the old PET packaging or transparent PET bottles can be easily recycled into new PET container products.
According to the PET Resin Association (PETRA), the PET recovery rate in 2012 was 31% in the United States and 52% in the European Union.
In 2018, nearly 1.6 billion pounds of PET were recycled into new products in the USA and Canada alone.
If we're recycled the PET packaging, which will reduce the amount of pollution and garbage that goes into landfills every year — save more energy to do other things.
4. Classification and Cost of Recycled PET Materials
There are two kinds of recycled PET materials, one is PET material before consumption ( pre-consumption ), the other one is post-consumption PET material.
The pre-consumption RPET material refers to the leftover corner material after manufacturing products with new PET material, which is reprocessed and produced into PET.
For example, to make a clear PET box, we need a new PET piece, after cutting the opened shape of this PET box in the plastic piece, part of the PET piece will not be enough to cut a good box again, which is the leftover corner material. And then the special recycling company will recycle the leftover corner material to manufacture new PET material. Due to it can be recycled directly from PET product factories in large quantities, and more convenient processing, so the cost will be lower.
The post-consumption RPET material refers to the recycling of used PET packaging into new PET materials. Since it has been used, the process of recycling material will be more troublesome and the cost will be higher.
No matter what kind of RPET material, the higher the proportion of RPET in the material, the higher the price.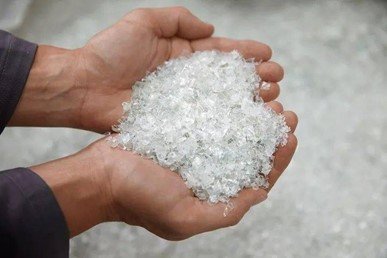 5. What Can PET Plastic be Recycled Into?
Because PET is a polymer, it can be recycled into polyester to make clothes and carpets. For example, fifty-two-liter drink bottles can produce one square yard of carpet fiber. This carpet is stain resistant, fades resistant, and retains some softness, generating less static electricity than other carpet materials such as nylon.
Except for the clothes and carpets, what can be made from recycled plastic?
 Food packaging: Cups, fruit containers
 New clear PET plastic bottles
 Fiber stuffing for soft furniture and sleeping bags
 Sports Shoes
 Industrial strapping tape
 Protective packing
 Building materials
 Auto parts
 Table and film
 Tennis cylinder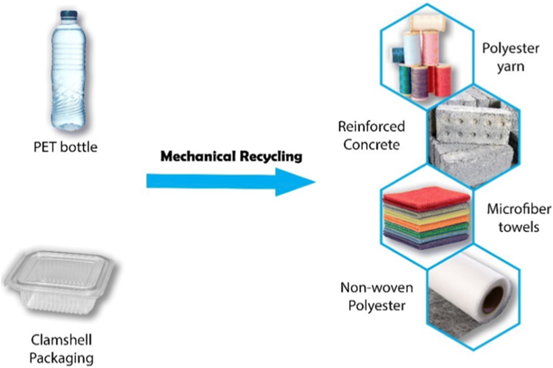 6. How to better recycling the PET packaging?
About 1% of the municipal solid waste in the USA is PET products — the U.S. Environmental Protection Agency (EPA) estimated it. And the average American household uses 45 pounds of PET packaging a year, which could produce 12 dozen men's T-shirts or 12 feet of the carpet by 15 feet if it could all be recycled. So it is very important that how to better recycle the PET packaging.
If you're selling retail products, such as drinks, you can use a certain amount of RPET material in the drink container, or recycle the old PET container to make the new PET container.
7. What recycled PET products we can provide?
Agreen Packaging can provide various of recycled PET packaging, which includes the
different packaging types and packaging for different industrial products.
– PET packaging Types:
Plastic card
REPT box
Blister tray
Clamshell
Sliding Blister
Plastic Tube Cylinder
– Recycled PET packaging for Different Industrial Products:
Candy packaging
Chocolate packaging
Macaron Packaging
Egg Packaging
Fruit packaging
Gift Packaging
3c electronic accessories packaging
Cosmetic/Makeup products packaging
Fishing Lure packaging
Bath Bomb packaging
Tools packaging
Golf balls packaging