Transparent Eco Friendly Plastic Food Packaging Boxes Containers With Lid
Transparent food packaging boxes have become increasingly popular in recent years due to their ability to showcase the product inside and provide a clear view for consumers. As a result, many manufacturers have started producing transparent food packaging boxes to meet the growing demand.
Green packaging is the leading manufacturer of high-quality transparent food packaging boxes. With years of industry experience, green packaging has established itself as a transparent food box supplier for global customers.
Food Grade Clear Plastic Packaging Boxes Made in China Specialist

Plastic food storage containers with lids are generally made of good hard food-grade transparent plastic materials, which can not only display food but also can be reused for a long time.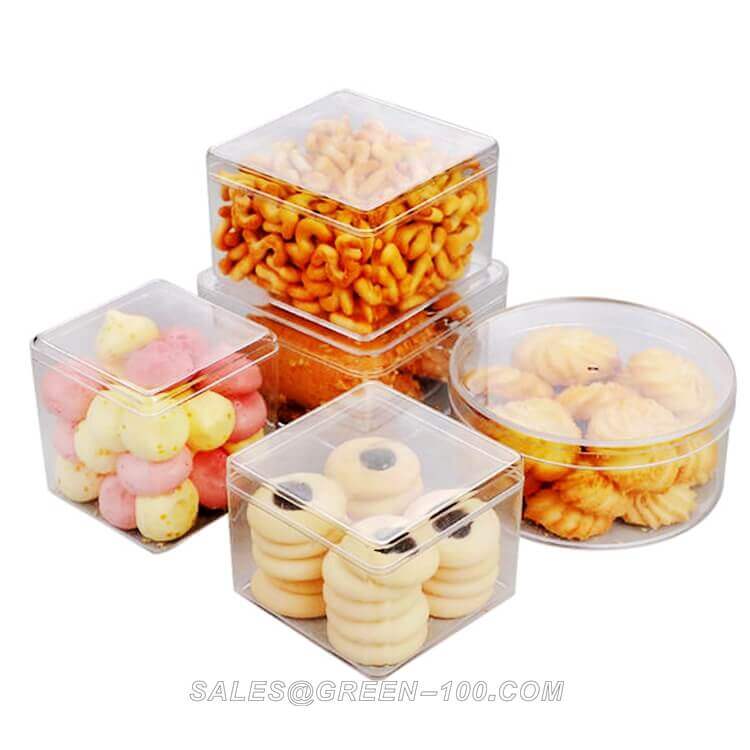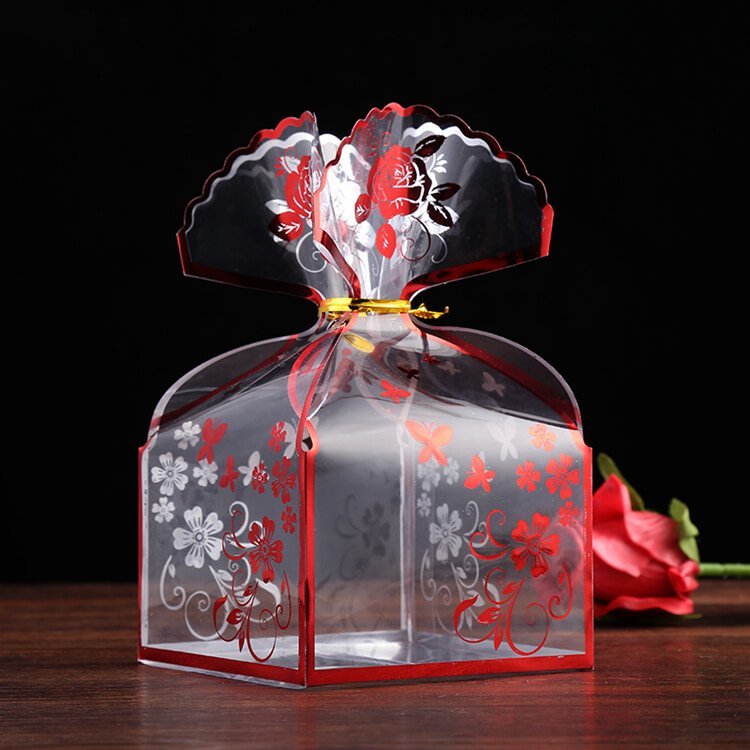 Holiday gift food plastic packaging box
Folding transparent plastic boxes are widely used in the food field. Different structures and sizes can be customized. Short production cycle and low mold cost are the advantages of folding plastic cartoon boxes.
Plastic pipes are also a common style in the food industry. The cylindrical structure is not only large in display but also strong. Generally sealed at the bottom with lid at the top.
With CMYK printed stickers or gold foil printing, the quality is more obvious.
plastic food packaging boxes-Ultimate guide
We only use the highest quality materials to produce our transparent food packaging boxes. Our box is made of food -grade pet materials and can be used with food and provides excellent clarity and durability. We also provide various customized options, including size, shape and printing to meet the unique needs of customers.
Our transparent food packaging boxes are very suitable for various foods, including baked foods, snacks, candy, etc. They are very suitable for retail display because they can clearly see the views of the internal products and can be easily stacked and stored. Our box is also an ideal choice for transportation, because they are light and durable to ensure that your products reach your destination in a perfect state.
In addition to our standard transparent food packaging box, we also provide environmental protection choices for customers who want to reduce environmental impact. Our environmentally friendly box is made of biodegradable materials and can be recycled after use, which makes them sustainable choices for companies that want to reduce carbon footprints.
Green packaging is committed to providing customers with high -quality transparent food packaging boxes that meet their unique needs. Whether you need to customize printing, environmental protection choices or standard sizes and shapes, we all have professional knowledge and experience to provide perfect solutions for your business. Contact us immediately to understand more information about our products and services.
Our article mainly introduces folding food packaging boxes. There are many styles of folding food boxes for you to choose from, most of these are disposable food packaging boxes. Such as transparent plastic food packaging boxes, paper disposable food containers, clamshell food packaging boxes, window paper food packaging boxes, etc. These all are popular food packaging boxes on the market now. Let us give you a detailed introduction to these popular food packaging boxes.
Transparent plastic food packaging boxes
Transparent plastic box food packaging is very popular now because it can not only be used as a normal disposable plastic packaging box but also can be used as your wedding cake packaging plastic box, baby shower party candy box, graduation ceremony, bachelor girl, Halloween party favor box or birthday gift box.
Birthday cake transparent packing boxes
If you are in the cake business, there are many styles of cakes that need to be packaged. Will you customize a packaging box for each cake? The cost of such packaging will be very high. If you choose to use clear disposable cake containers, then you don't need to customize different styles of packaging and printing for these cakes, which greatly reduces the cost. And if you tie a ribbon around the clear cake container, it will become a gift box.
Transparent food packaging boxes are the perfect packaging choice for storage and transportation. If your food needs to participate in trade fairs or weekend markets, pack your food in transparent boxes so that consumers can see your products intuitively, and at the same time prevent your food from being directly touched by shoppers. This also makes mailing easier because the food is already packed in the packaging.
Portable gift cake clear gable boxes packaging
3 inch, 4 inches, 5 inches, 6-inch portable, and portable ecological food-grade plastic packaging box.
Food grade paper card at the bottom is set off to prevent movement and spillage. The surface of the plastic box can be printed and embossed.
Plastic transparent hand-held baking pastry box packaging box thousand layer mousse cake box muffin cup packaging box.
Three inventory sizes moq500pcs wholesale.Contains internal food grade paper mats.
Food grade Gable paper boxes packaging with window
Give your products an elegant appeal with sublime food packaging boxes cardboard window. Cheap Food Grade Cup Cake Packaging Boxes with Clear window/Customized Design Paper Gift Box Paper Packaging Box.
Customize the window size and the size of the box for your product.
Muffin box cup cake biscuit pastry packaging boxes
Food thermoforming tray container
We can make safe and protective thermoformed tray packaging according to your different foods, using food-grade PET material, which can be refrigerated without fogging. Overlapping packaging saves transportation volume.
These products are available in a variety of stock specifications, as well as DIY customization(MOQ5000pcs)
We have clear blister packaging for 2/3/4/5/6/10/12/15/24 pcs macarons. In addition, it can also be customized.
The most intuitive display of your exquisite dessert, food-grade recyclable materials
As more and more countries strictly control the use of plastic packaging, many customers have to give up selling good transparent tube packaging. In fact, most customers misunderstand plastic materials. Our company has both PETG plastic pipes that meet food-grade requirements and transparent pipe packaging made of biodegradable ECOpet materials that meet the requirements of the European Union, the United States, and Southeast Asian countries.
Sushi takeaway packaging plastic packaging boxes
Our company produces multiple specifications and printed plastic packaging boxes for sushi take-out packaging, which will increase your sushi sales.
We have many specifications and styles. Generally, food-grade pet bottoms and OPS with good low-temperature resistance and anti-fog performance are used as transparent lids, which are not easy to fog even in low-temperature environments.
Problems worthy of attention in custom transparent food plastic packaging
Conventional food grade material food grade PET, folding transparent plastic box, food grade plastic tube and disposable plastic packaging box and cake box and sushi packaging.
Agreen Packaging specializes in the production and manufacture of food grade packaging